I had the privilege of attending a First Holy Communion Mass last weekend.  The Mass was great; all the children were in their fine attire and super excited, parents and family packed the church, and everyone went home to big parties.  I asked my relative who attends the parish how many of those families attend Mass regularly.  More specifically, how many of these families will be at Mass next Sunday.  He guessed about 20%.  I was saddened but not shocked when I heard that low number.
I would think that emphasizing the importance of regular Mass attendance would be a core tenant of preparation for one's First Communion.  We can't really blame the second graders for not coming to Mass every Sunday.  After all, they depend on their parents to take them to church.  The responsibility lies almost entirely on the parents to make sure their children attend Mass.  If parents do not attend Mass regularly they convey the message that Mass isn't that important.  More broadly, they convey that practicing their faith isn't all that important.  This message creates a cycle where the kids grow up thinking that Mass and receiving the Eucharist is something unimportant and optional which they will pass to the next generation of Catholics.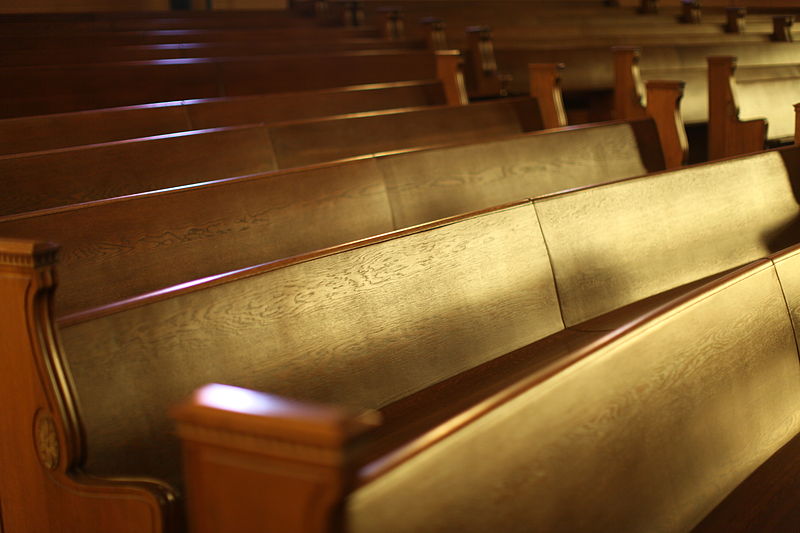 With this scenario in mind, listen to Pope Francis' intention for the month of May:  That the lay faithful may fulfill their specific mission, by responding with creativity to the challenges that face the world today.  The pope is asking all Catholics to actively live and promote the Catholic Faith.  Promoting the faith cannot fall solely on ordained priests and nuns.  They only make up a small fraction of the Catholic Church.  For the Church to remain thriving, it requires the active participation of the lay faithful who make up 99% of the Church.  Remember, Jesus didn't select the Pharisees, scribes, and scholars to spread His message.  He chose fishermen and a tax collector as His apostles.  From the start, the foundation of the Church was the laity.
As the lay faithful, we of course need to set a good example.  We need to attend Mass and avoid sin.  And that's a good start because that can help break the cycle of indifference.  But God wants more from us than just the bare minimum.  He doesn't want His Church to just survive; He wants it to flourish!  God desires all of us to one day join Him in Heaven and so we need to be active promoters of the faith.  This doesn't mean pestering and annoying people into conversion.  As the pope says in his May intention, we need to be creative in our approach.
The Rosary Connection
As you pray the Rosary in May (Mary's month), remember the pope's intention.  Think about how you can be a more active champion of the Catholic Faith and lead others to realize the peace that comes from God's grace.  Here are how some of the mysteries relate to the pope's call for greater laity involvement in the Church.
The Visitation (2nd Joyful Mystery) — This account immediately follows the Annunciation in the Bible.  Note that God did not direct Mary to go visit her cousin Elizabeth.  Mary went on her own accord to help someone who needed it.  This should remind us all that upon receiving God's grace we should all be moved to use that grace in helping others in whatever creative way God calls us.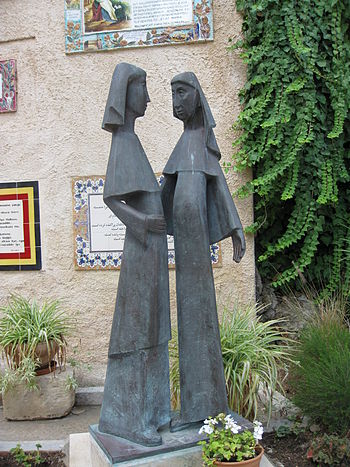 The Ascension (2nd Glorious Mystery) — This mystery is about Jesus' final human appearance before going into Heaven.  He left behind dedicated disciples to carry on His mission.  Today's lay faithful are descendants of those early disciples.  We have just as much of a responsibility for spreading the teachings of Jesus Christ as those disciples.  Ironically, we find ourselves in a similar world; one that does not know Jesus.  We need to be the ones showing others that our desire for true happiness only comes through Jesus, not by fulfilling all our worldly desires.
The Assumption (4th Glorious Mystery) — Mary is our guide who desires nothing more than for us to know Jesus' love for us.  We can call on Her when we have a particularly difficult time living and spreading the faith.  Mary will help us and intercede for us if we ask.  God isn't asking the lay faithful to spread His Word alone.  We can always rely on Mary to assist us.
I hope you have a joyful and glorious month of May.  Honor Mary by praying the Rosary and contemplating the pope's intention.
Related articles