Starting Out Right
I often tell my boys that getting into the right mindset in the morning is crucial for a successful day at school, home, and activities. It starts with a good night's sleep, eating a healthy breakfast, making sure their uniforms are in good shape and are worn neatly, etc. Starting the day organized, polite, and presentable goes a long way in living a successful day. The day goes so much smoother than one when they oversleep, are disorganized, chaotic, and aren't prioritizing getting ready for the day.
I think the same goes for how people approach the holy Mass. Are you adequately prepared to fully participate in the Mass in reverent prayer? Or are you scrambling out the door only to arrive 10 minutes late, sit in the back, and stare at the wood beams of the church?
The Power of Reverence
Fr. Michael Rennier wrote this article on the Catholic Exchange on the beauty and power of a reverent Mass experience.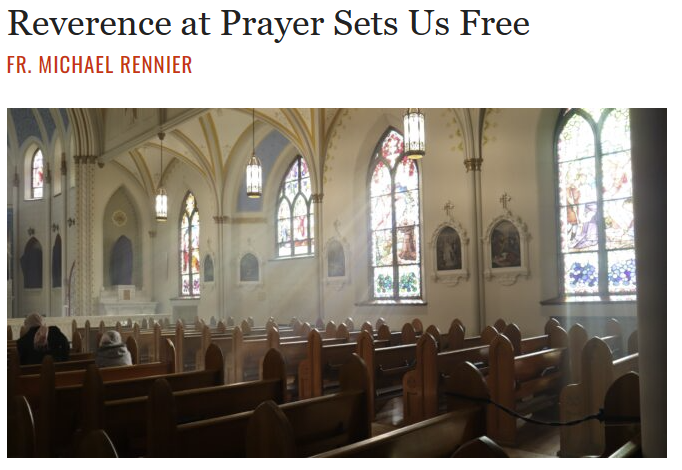 He points out that Mass doesn't need to be solemn and silent to be reverent. Family Masses with small kids aren't usually quiet. But reverence isn't about the volume level. You can have a quiet church and still have an irreverent Mass. Being late, chatting with your neighbor in the pews, not listening to the priest, leaving early, and not participating in the Mass really aren't showing reverence to God.
I've had conversations with people who attend Mass occasionally because they said they just don't find the priest's homily interesting. This again misses the point of a reverent Mass. It's not a show or lecture. As Fr. Rennier says, a reverent Mass makes room for the sacred. It's knowing that something very important and special occurs in that hour that does not happen in the other 167 hours of the week.
Reverence in the Rosary
When you pray the Fourth Joyful Mystery of the Rosary, picture Simeon in the temple holding the baby Jesus. Imagine the reverence Simeon must have shown after waiting and praying for so many years before seeing God's Chosen One. His entire life built up to that one miraculous moment. He prepared for that moment through prayer and a constant connection to God by being physically present at the temple.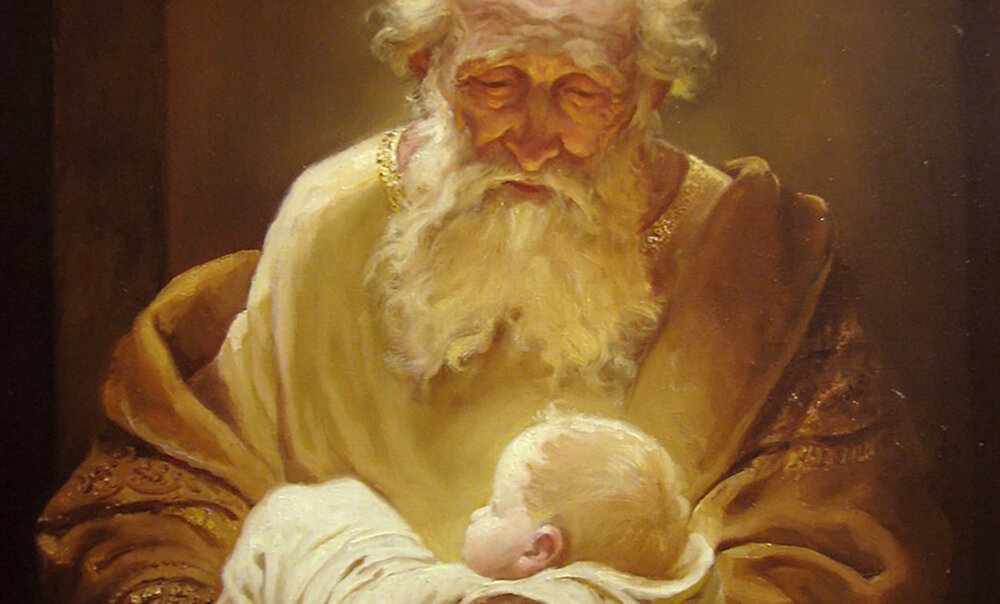 We need to imitate Simeon if we want a reverent Mass. That means being physically present at Mass. It's time for parishes to disconnect those webcams and insist on people's presence. The various parts of the Mass prepare us for the ultimate culmination of our faith — the Eucharist. That means we need to be mentally and spiritually present at Mass; listening, praying, and participating. Simeon prepared himself to encounter the baby Jesus. Similarly, we need to prepare ourselves to accept Jesus in the Eucharist.
Benefits of Reverence
A reverent Mass experience will help you connect with God on a deeper level, grow in faith, increase your sense of hope, find peace, and feel connected to other Catholics in the universal Church. Showing reverence is not always easy and takes effort. But God will fill you with spiritual goodness beyond anything the world can offer when you make room for Him through reverence.