I recently read We Have Met the Enemy: Self-Control in an Age of Excess by Daniel Akst. He explores the cultural shifts in our views around self-control. This is a secular book so you won't see much on Church teaching except some implicit connections that those who are religious tend to exercise more self-control. Nor is it a self-help book trying to push some 12-step program. It's just an honest look at self-control and whether its declining value in our world is a good or bad thing. Naturally, I read it thinking about how self-control is linked to our faith and what the Rosary can teach us about this topic.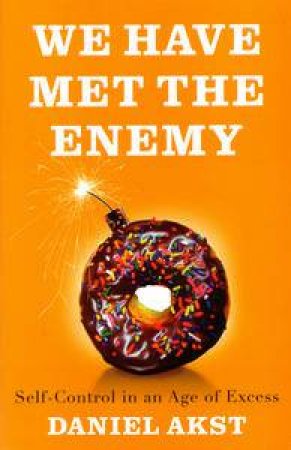 Fighting Evolution
We have to endure a world of temptation and excess our ancestors never had to. Think about how convenient life is for the modern person. Most of us have nearly instant access to an abundance of calories, entertainment, and things. We don't have to go for long periods of time between meals. Food is either a supermarket trip, fast food run, or pantry raid away. And with smartphones and the internet, we aren't lacking options to occupy our time or buy anything our heart desires.
Our minds and bodies aren't designed for this modern level of excess. Think about our primitive ancestors. They would need to fast for days between hunting animals. So when they did come across food, they consumed as much as they could because they didn't know when the opportunity to consume more calories might be. As for entertainment; forget about it. They were too busy trying to stay alive. But if they could find some downtime, they took full advantage of it since they needed the rest to conserve energy.
Humans evolved amongst scarcity. Surviving when resources are scarce is our default setting. So our minds and bodies are working as designed when we indulge in tasty food or relaxing activities. The becomes problematic because we are surrounded by food and leisure 24/7. But our bodies don't know that and are slow to adapt to the last few decades of changes (a blink in evolutionary terms). We need to override our default mode in this world of abundance. We need to show self-control.
Catholicism and Self-Control
Our Catholic faith helps us develop this sense of self-control. Think about the 7 deadly sins — gluttony, lust, envy, wrath, greed, sloth, and pride. For the most part, the root cause of these sins is a lack of self-control. It's a failure to control our appetites, desires, and wants. The Church acknowledges and teaches that self-control is about resisting temptation and avoiding sin. This helps us stay healthy physically, but more importantly, spiritually.
Of course, showing self-control isn't simple in the age of excess. We live in a world that affirms just about every vice. Lust, greed, and gluttony are celebrated as people being free to embrace whatever lifestyle they desire. The world isn't going to honor your efforts to live on the straight and narrow. In fact, it will mostly like shame you for following conventions it sees as authoritative and fascist.
Self-Control in the Rosary
We can turn to the Rosary for guidance on self-control. When we look at the 7 deadly sins, the root sin is pride. Our pride is what justifies our lack of self-control. Pride is what puts our wants and desires ahead of anyone else's. It tells us to ignore those voices telling us to exercise self-control. The virtue that counters pride is humility. Naturally, Mary is our model for humility. Meditate on the First Joyful Mystery. Picture Mary putting aside her own desires to do God's Will. Humility means allowing God to guide us. Self-control and humility are about looking beyond your immediate wants and acknowledging others' needs. Those "others" are our friends and family, our brothers and sisters in Christ, Christ himself, and our future self.
Look at Simeon and Anna in the Fourth Joyful Mystery. They exemplify restraint and dedication. They spent their lives in the temple praying and waiting for the Chosen One. Think about the level of self-control and patience they must have had. Simeon didn't give in to their immediate desires but instead focused on what was promised to him — the privilege of seeing Jesus before he died. God promises us Heaven. But like Simeon, we have to show self-control and patience by not giving in to our sinful desires. We have to invest in our future selves that will enjoy the fruits of God's kingdom. That "investment" won't always be easy and might take a long time to bear fruit.
Self-control may be a dirty word in today's culture. But we have to see it for what it really is — putting aside desires that aren't physically, mentally, or spiritually healthy for us. This is why praying the Rosary, receiving the sacraments, and going to Mass are so important. They amplify this need for self-control, patience, and humility in a world that has practically drowned them out with messages affirming any vice you can think up.