One aspect of parenting I find incredibly difficult is trying to teach my kids to do the right things on their own. I don't want to have to continually nag them to clean their room, not to interrupt when someone is talking, say "please" and "thank you," and all those other little things that create peace and pleasantness. It's an ongoing challenge to instill in them a sense of wanting to do the right thing and to see that it makes life so much better for everyone.
This brings me to the final gift of the Holy Spirit — piety. This is the wanting or longing to do God's Will. It's not living the faith out of fear or responsibility, it's wanting to do God's Will because we desire to live in God's grace. It's wanting to go to Mass, pray, and receive the sacraments, not out of a sense of obligation or under penalty of sin, but because we want a close relationship with God. Piety builds on those other gifts of the Holy Spirit, understanding and wisdom, to know that there is nothing better than living in God's grace. Piety instills that longing to live in that grace and ultimately, in joy.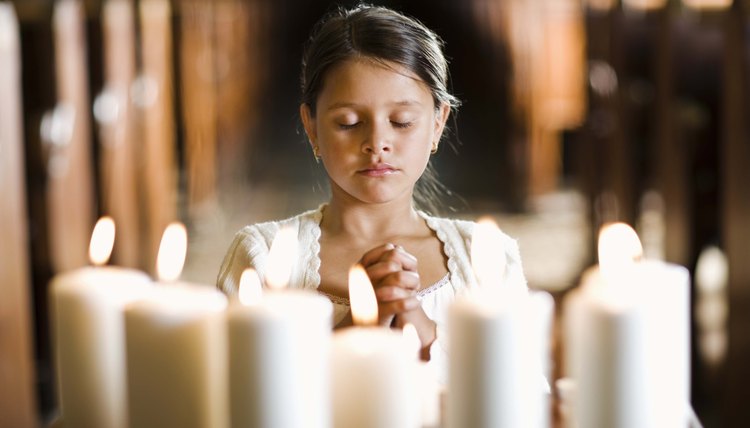 I think there's a reason why we are called God's children and we call him "Father." When it comes to our interaction with God, we can act childish at times. We do things because we are told to. We often go to Mass or pray before meals because we feel the Church nagging us into it. Like a child reluctantly cleaning his room, we do these things without joy. We do them begrudgingly because we don't understand the bigger picture. If we did see it, we would gladly go to Mass, pray, and sacrifice like the saints because we would understand that not living in God's grace is not living at all. We need this gift of piety to see through the drudgery of spirituality and see it as the path to true joy and happiness.
Piety in the Rosary
Let's look at St. Simeon in the Fourth Joyful Mystery of the Rosary. Like many people, I picture St. Simeon as a fragile old man who lived a difficult life. He spent all his time in the temple praying only to finally see the baby Jesus before dying. Many of us might see that as a pointless life. But God is challenging us to see our faith differently in this mystery. We should see Simeon as leading an exceptional life — one that is centered around forming a relationship with God. We should see the joy that comes through piety because it's a life filled with God's grace instead of fickle worldly desires. For all we know, Simeon may have come to the temple every day joyful in his encounters with God through prayer. And we too can find joy being with God through prayer.
We should also remember that Mary guides us towards a life of piety. As Queen of Heaven (Fifth Glorious Mystery), she desires everyone to enter into God's kingdom. That means living in a way that is centered around God. How do we expect to live with God in Heaven if we never make an effort to live in His grace on earth? Fortunately, Mary is constantly guiding us toward God. She bridges the gap between us and God through her messages and apparitions throughout history and her mediation between humanity or Her son, Jesus. When we pray the Fifth Glorious Mystery, let's remember to lay our struggles living a pious life at Mary's feet and earnestly seek her help.
Piety is all about saying "yes" to God. This is no better represented in the Rosary than in the First Joyful Mystery. Mary whole-heartedly said yes to God. It wasn't a "yes" born out of fear. After all, God isn't some tyrant demanding strict obedience. He gives us the freedom to say "no" but provides us an overly abundant number of reasons to say "yes." Piety is about having the wisdom and right judgment to weigh a pious life against impiety and see that the pious life wins out in every way.
Piety: The Easier Path
Going back to getting children to do the right thing. Often, I try to show my kids that doing the right thing is easier than doing the wrong or lazy thing. Keeping a clean room means that toys and books don't get broken or lost. Sharing means that everyone gets more toys and games to play with. Going to bed on time means more rest and more energy.
The same is true with leading a pious life; it can lead to more joy. When we want to follow God, we choose not to follow Satan and fall for his lies. We then avoid a life of sin and avoid vices like greed, gluttony, envy, and anger. All of those choices, while maybe providing short term pleasure, lead to long term unhappiness. In short, it's a bad investment of our time and energy. Piety is such a small investment but leads to the biggest payoff — a life in God's grace and an eternity in Heaven.