In my last article I discussed how the state of American political discourse has descended into a war of bill branding and news soundbites rather than discussion on Constitutional principles.  Specifically, I noted that large negative response many liberal politicians had on the Supreme Court's Hobby Lobby decision.  Now it's time to separate RosaryMeds from your run of the mill "this is what's wrong with the world" blog.  While others report and complain about politics, I'm going to offer a solution — a prayer.  Specifically, let's look at a mystery of the rosary for guidance in these worrisome times.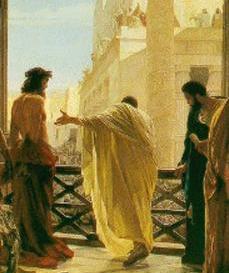 When I read about just how zealously many politicians elevate the role of abortion in our society I think of the Third Sorrowful Mystery — The Crowning of Thorns.  I think about how the Roman soldiers mocked Jesus in such a cavalier and dismissive manner.  Although they weren't Jews, they must have known about the countless miracles Jesus performed which should have ringed warning bells that this wasn't some mere criminal they were scourging and mocking.  The soldiers, Pontius Pilate, the Jewish leaders, and everyone else involved in crucifying Jesus must have had some inclination that they were playing with fire by so brashly mocking the Son of God.
When I think of the Patty Murrays, Nancy Pelosis, and Harry Reids of our government, I wonder how many of them deep down in their consciences know that they promoting a great evil by backing the pro-abortion lobbies.  Like the Roman soldiers that mocked Jesus, do they have some inclination of the seriousness of their actions?  If their promotion of abortion isn't born out of pure ignorance, do they know they are playing with fire by acting contrary to their faiths and natural law?  Like the soldiers who got caught up in the moment of mocking Jesus, are some politicians so caught up in scoring political points with their base and lobbyists that they never stop and consider the ramifications of what they are doing?
When you pray the rosary, especially the Third Sorrowful Mystery, pray for those who so brazenly mock Jesus' teachings for worldly gain.  Pray for their conversion and an awakening to the damage their behavior creates both to themselves and others.  Pray that you personally always remember Jesus' teachings and not get caught up in behavior that runs counter to it.  It can be so easy to casually mock Jesus through seemingly little sins.  But those little sins can really add up and over time derail you from the path God sets before you.  Be aware of your behavior and find the courage to ask for forgiveness through the Sacrament of Reconciliation whenever you act contrary to your faith.
Our Prayer
Forgive those Lord who misrepresent Your teachings and hide Your truth in darkness.  We pray for their conversion much like how You touched the heart and mind of your servant, St. Paul on the road to Damascus.  May those who harm so many in their blindness of earthly ambition end up saving 100 times as many souls in their conversion.  We also pray that we may never take Your truth for granted and casually ignore it.  Holy Spirit and our Mother Mary, please give us the strength to honor our Lord Jesus Christ with a crown of good works, love, and charity and avoid crowning Him with the thorns of sin.
Related articles