Yep, I'm getting political.  But please keep reading!  This does related to rosary prayer and meditation.  I know many people like to visit my blog to read little, witty observations and my analogies of rosary meditation to exercise, military mottos, movies, etc.  But we also have to remember that we practice our faith in the real world which produces real challenges.  I don't want my articles to just become useless platitudes that don't have any connection to the real world.  God calls us to live our faith publicly even in the face of hostility.  Fortunately, He gave us the rosary through his sacred vessel, our Mother Mary, to help us overcome the legions that stand against truth and love.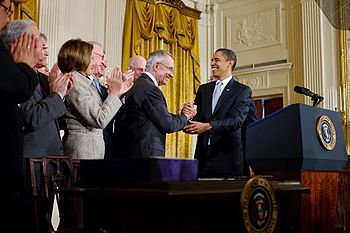 What has gotten my dander up recently is the response certain politicians had to the Supreme Court's "Hobby Lobby" decision.  The high court ruled that the government cannot compel a private company to provide services that run counter to the owners' religious beliefs.  It was a classic upholding of the Bill of Rights although it narrowly passed on a 5-4 ruling.  But this ruling set many politicians into a conniption fit especially Senator Patty Murray who introduced a bill named the "Women's Health Protection Act."  However, a more apt name would have been the "Let's Dynamite the Constitution and the Judicial Branch of Government Act."  This bill aimed to not only reverse the Supreme Court's decision but also eliminate the states' right to legislate on matters regarding abortion.  Fortunately, the bill came up four votes short in the senate to move forward. Matthew Archbold at Creative Minority Report correctly called out this bill for what it was:
This push for the Women's Health Protection Act is a p.r. stunt. It's a meme push. The War on Women is coming to get you!!!!! Harry Reid, Nancy Pelosi, and the Obama administration have been such absolute failures that they believe their only hope is to scare women into believing that the GOP intends to drag women back to the stone age or worse yet, the 1950's. This legislation has zero chance of even being introduced in the House of Representatives. So the Democrats will attempt to argue that Republicans voted against something as benign as the "Women's Health Protection Act."
This is my scary observation about the current American political climate — our politicians and the general voting public base discussion on very serious topics on the title of bills and evening news sound bites.  You no longer hear our politicians discuss the actual contents of a bill or whether it has a sound Constitutional foundation.  Instead, they do everything they can to push bills into laws regardless of their constitutionality because they know how hard it is to repeal it once it becomes law.  And so we see bills like the "Affordable Care Act", "Women's Health Protection Act", "Patriot Act", "Dream Act", "No Child Left Behind", "Security and Freedom Protection Act", and so on.  George Orwell would have been pleased (maybe even a little shocked) how you can create a law to do almost anything as long as it has a catchy title that tugs at the heart strings.  After all, the media and political opponents can have a field day if they can label you as the person who stood against affordable health care, women's health, or our nation's security and freedom.  The fact that you may have very just and sound opposition matters not in the war of catch phrases.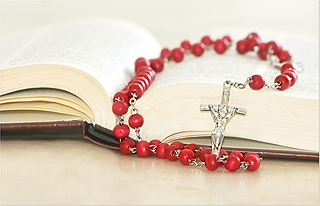 I said in my previous post that we need to continue to pray because so much of the freedom we enjoy often remains in place because of a few votes.  One justice made a difference in the Hobby Lobby decision.  If one of the five had swung and ruled against Hobby Lobby — puff!  Your freedom of religion would have been diminished that much more and it would set precedent for other cases to diminish it even further.  Think about what could have happened to your first amendment rights if one of the five judges who voted in favor of Hobby Lobby retired and replaced with someone who swung the other direction?
And remember Patty Murray's bill that didn't move forward because it was four votes short?  Do you know how easy it is to bribe four politicians?  They will keep trying to push something like that bill through in the future.  And that's the problem — politicians only need to find that one opportune moment, one good sounding bill title, or that perfect soundbite (but never mind about the actual content of the bill) to put into place laws that will be nearly impossible to reverse.  Think about how long Roe vs. Wade has been law despite the growing scientific evidence that a fetus is a human being.  A politician or special interest only needs to get lucky once and political inertia takes hold.  Like a watchman in the night, we must continue to pray to prevent damaging bills from becoming law and never fall into hopelessness that our prayers don't matter.
I have more to say on this topic, but I need to continue in a future article because this one is already growing long.  Please like and share this article with others.  Think of this article as a bill titled "The apple pie, fresh baked cookies, and grandma protection act."  If you don't "like" it then I will say that you stand against apple pie, cookies, and you grandmas.
Related articles