We just remembered the 70th anniversary of the Allied landing on Normandy in WWII.  Operation Overlord, or D-Day, was a massive operation that forever changed the face of our world.  Thousands of men stormed the beaches and for many of them, the flashes of German gunfire from concrete bunkers was the last thing they would ever see and the deafening sounds of mortar shells was the last thing they would ever hear.
But like many historical events, even the big ones like D-Day, time erodes our memories and emotions of these events.  As the people who experienced these events pass away and all we're left with are pictures and videos, these world changing moments start to feel less real and meaningful to us.  Washington D.C. burning to the ground in 1812, thousands of men dying at Gettysburg, the bombing of Pearl Harbor, D-Day, and one day, 9/11, almost start to have as much impact as a work of fiction as time goes on.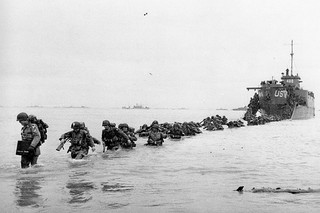 I think we often suffer from time diminishing our faith.  Many of us read the Bible and listen to the Gospels at least once a week during Sunday Mass.  We may pray routinely.  We know what Jesus taught and what He expects of us.  We know the high bar He sets for us to get into His kingdom of Heaven.  And I bet, if Jesus walked into your room and repeated what He said in the Gospels, He would have your complete attention.  You would run out and change anything and everything in your life that didn't line up with His teaching.
And yet, we often ignore, trivialize, or give lip service to Jesus' message because He said it nearly 2000 years ago and we didn't witness it firsthand.  We are like St. Thomas who doubted Jesus' resurrection when the other disciples told him about it because he didn't personally see Him.  But Jesus' teachings are no different today than when He walked this earth.  His teachings are no different through the Gospel than if He came walking through your door right now.  And yet we too allow the trivialities of our present situation to overshadow the greater truths Jesus taught us.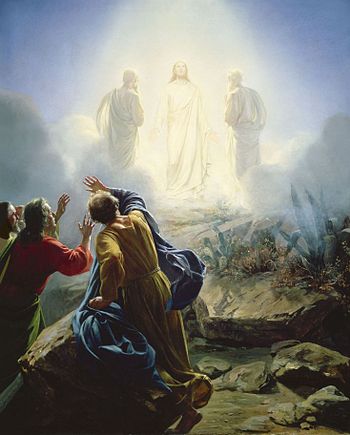 I think about my lack of appreciation of Jesus' truth most when I pray the Fourth Luminous Mystery of the rosary, The Transfiguration.  I think about how awe inspiring it must have been for the apostles to witness Jesus transform into a figure of dazzling light and to hear God say, "LISTEN TO HIM."  If we truly believe in the authenticity of the Catholic faith, then we know the Transfiguration was a real event.  God didn't just tell the apostles to listen to Jesus.  He told all of us!  But ask yourself, do you live with an awareness of that reality?  Or do you often ignore or trivialize the truths of the Catholic faith because you didn't personally witness Jesus saying them?  Why does a difference of time and place have such a dramatic effect on our willingness to follow Jesus' teachings?
Before you beat yourself up, remember that even the apostles failed to truly believe in Jesus' teachings when confronted with the realities around them.  Judas betrayed Jesus.  Peter, who witnessed the Transfiguration, denied Him.  And all of them, except for John, went into hiding during Jesus' crucifixion.  They didn't even have the excuse of being separated from Jesus by thousands of years like we do.  Their cowardice shows just how powerful our human weaknesses are and how they can dominate over our desire to live for God's eternal kingdom.
And while we may fail to truly believe in Jesus' message like the apostles did, God came into our lives in yet another form — as the Holy Spirit.  The Holy Spirit gave the apostles that shot of courage and conviction to go out and live and preach the Jesus' message.  While they may have been lukewarm in their faith while Jesus was alive, they were transformed into true believers on Pentecost.  Even in their fear, the Holy Spirit penetrated their souls and gave the apostles a needed spiritual "kick."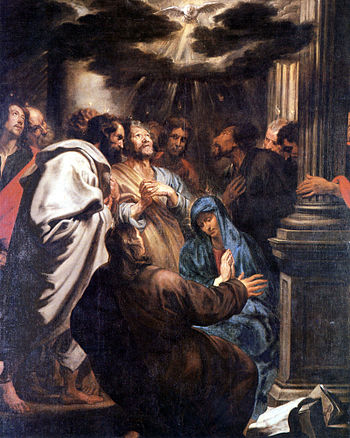 Many of us are in need of a spiritual kick.  We may not live in fear of practicing our faith (although more and more Christians are being persecuted and martyred throughout the world).  But many of us do suffer from a sense of passivity in our faith because we haven't heard Jesus' teachings directly from His mouth.  But the Holy Spirit, the same one that roused the scared apostles into action, rouses us into action as well.  We only have to provide that small bit of kindling in our souls for the fire of the Holy Spirit to erupt into a bright flame of faith.  That kindling is something as small and as easy as focused prayer, rosary meditation, participating at Mass, and receiving the sacraments.  It doesn't matter that Jesus walked this earth nearly 2000 years ago.  His message is still the same and the Holy Spirit burns just as bright!
Related articles