The Lost Art of Self-Control
I recently listened to a podcast produced by The Art of Manliness website titled What Happened to the Idea of Self Control? It was an interview with Daniel Akst, author of the book Temptation: Finding Self-Control in an Age of Excess. He brought up interesting points about how we've forgotten the benefits of self-control as a society. Instead, we now have this notion that resisting temptations and showing self-control are somehow contrary to exercising freedom.
When I listened to this podcast, I couldn't help but think of the Israelites in the Old Testament. Countless times, their lack of self-control led to God punishing them. As I said in previous articles, I bet the "punishment" was just the logical consequence of a society acting immorally. When self-control is no longer valued or promoted by a culture, chaos results. The 10 Commandments and other moral laws don't exist to inhibit peoples' freedoms. It's quite the opposite. They remind people of the foundational moral code that allows freedom to flourish.
Freedom vs. License
Let's review the difference between freedom and license. Freedom is having the ability to freely choose how you want to live as long as it's compatible with the common good. License, on the other hand, is doing whatever we feel like doing. We tend to confuse these concepts. True freedom results from people considering the consequences of their actions and how it affects others. Freedom is being able to choose between multiple good or neutral options. Choosing to do harm or evil isn't exercising freedom, it's taking license. We can never willingly choose evil under the name of freedom, free choice, or free will.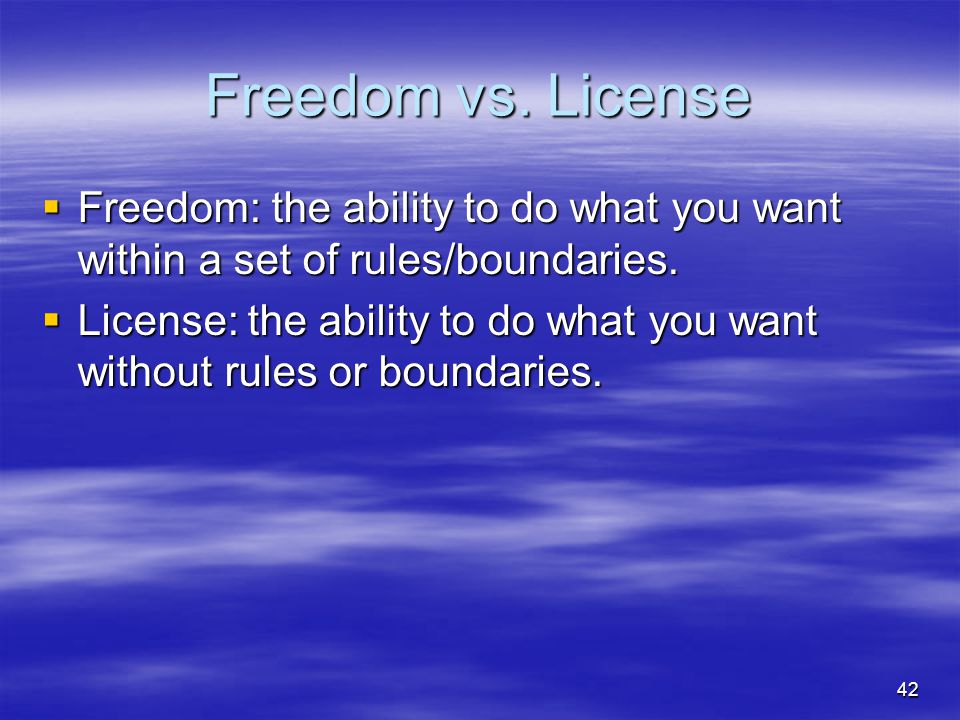 Elections and Freedom
The United States is entering its midterm elections. We're not electing a new president, but we are electing members of Congress and voting on various laws. Abortion is a big topic now that the Supreme Court overturned federal abortion laws. You hear many pro-abortion politicians talk about the "freedom" to choose. Some even go so far as to promote radical abortion policies while holding rosaries or displaying religious imagery. They paint pro-life advocates as wanting to take away a woman's freedom. But abortion is gravely immoral. Promoting abortion can never be an exercise of freedom. It's an exercise in taking license.
Teaching people the evil of abortion and pushing for an abortion-free society does not impede people's freedoms. A free society is not one where anything goes. That mindset inevitably leads to chaos and disorder. Look at many progressive cities in the United States like San Francisco, Los Angeles, Portland, Seattle, and Chicago. They are enshrining license in their laws by not enforcing laws against drugs, theft, and even certain violent crimes. This is in the name of "freedom", "equity", and numerous other buzzwords. However, these cities have become less free because law-abiding citizens are not safe to lead the life they want. Their freedom to choose the good is restricted so that others can exercise license.
How the Rosary Teaches Freedom
When I think about following God's laws, I meditate on the First Luminous Mystery. I recall the Holy Spirit coming down on Jesus and God saying "You are my beloved Son; with you I am well pleased" (Luke 3:22). God is telling everyone to listen and follow Jesus. And that really is the core of practicing the Catholic faith — listening to Jesus. We affirm this in the sacraments of Baptism and Confirmation. Freedom comes down to listening to God and doing His Will out of a love for Him. Even for those who aren't baptized Catholic, God still speaks to them through the natural law He created. We are all born free because everyone has the ability to know God and follow Him. We all intuitively understand the difference between good and evil and can make free decisions honoring God's moral laws.
When you examine your conscience (which you hopefully do regularly), ask yourself if you exhibited freedom or license during the day. Did you allow God to guide you in your interactions with people? Look at some of your political views, politicians, and laws that you support. Do you support them because they are morally sound or because they are convenient? There are so many people who will see our world crumble as long as they get to stay on top. They do that by selling license disguised as freedom. Be smart, pray the Rosary, and see through the lies.