I received this newsletter from the good people at One More Soul, a website dedicated to fostering God's plan for love, chastity, marriage, and family. This is probably the most comprehensive discussion about the dangers of the Health and Human Services Contraception Mandate you will find anywhere. It approaches the issue of forcing people to offer contraceptive coverage in health care plans from multiple fronts — religious, political, philosophical, medical, economic, and sociological.  It has more than just Catholic commentary and theology that you might find in other publications. Many of the articles about the medical, economic, and sociological dangers of artificial contraception are from well-regarded doctors and scientists using data collected from studies and experiments.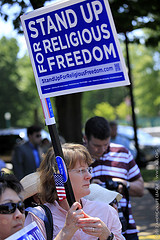 This is a dense, 24-page newsletter so don't think you can read through it casually in a few minutes. It does demand time and focus to get the most out of these articles. But I believe it is important to read every article to get the full scope of the challenge the faithful face in this world that is growing ever more hostile to people publicly living according to their religious convictions. It's also important to read the medical articles so that you are aware of just how dangerous birth control pills are and the widespread damage they cause to individuals, marriages, and society.
I urge you to read these articles and share them. But also keep these articles in mind while you pray and meditate over the mysteries of the rosary. Because this battle over the HHS Mandate isn't just about two large, faceless forces (the government and the Catholic Church) fighting over power and control. The issues of birth control, abortion, and the role of religious liberty has in our society affect millions of people whether it's a business owner that must choose between his faith or his franchise or the young woman who the media, politicians, and abortion industry has deceived into thinking that a birth control pill is no different from a vitamin pill. Millions of people need your prayers.
Without prayer, we are like the apostles after Jesus' death — hiding in a locked room scared of doing anything. But with the power of the Holy Spirit, through prayer, we find the strength to go out and publicly proclaim God's truth like the apostles did on Pentecost which we remember when we pray in the Third Glorious Mystery of the rosary.  Learn the facts, listen to God through prayer, and then let the Holy Spirit work through you to help all those in need (especially those who don't even know they need help).
I'm going to stop talking now so you have time to go and start reading these articles. Seriously, visit the One More Soul website, bookmark it, share it, sync the newsletter on all your smart phones, e-readers, and tablets and start reading and praying today!
Related articles