Have you ever said to yourself that one day you would read the entire Bible?  And yet, the Bible never seems to make it to the top of your reading list.  After all, you have so many other books, magazines, blogs, websites, and newspapers to get through like RosaryMeds (hint, hint).  So who has time to read the Bible?  Well, now you have no excuses to avoid going through at least part of it.  You can listen to the Truth and Life Dramatized Audio Bible which covers the entire RSV-CE New Testament.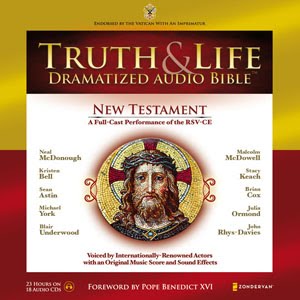 I listened to this audio Bible driving home from work over the course of three months.  Unlike hearing small, isolated passages during Mass on Sundays, I really got the "full picture" hearing the New Testament for a longer period of time and in order.  I definitely noticed the differences in tone and meaning between the various Gospel writers as well as the various letters.  And unlike the slow, monotone pace the readings are often read during Mass, the passages in the Truth and Life Audio Bible are acted out and accompanied with music and sound effects which really makes the New Testament come alive.
The only shortcoming of an audio Bible compared to a written one is that there are no footnotes or commentary to go along with it.  It's not very convenient to stop the audio and look up the meaning of phrases, places, and people.  Perhaps listening to the audio Bible while following along with a study Bible would be the best way to approach this if you are really interested in gaining a deeper understanding.  But even if you do not understand every detail, listening to the Bible in full is a good way of absorbing the overall themes of the New Testament.
The Truth and Life Dramatized Audio Bible is about 22 hours long.  You will finish it in less than a month if you listen an hour a day.  Is that a little too optimistic?  How about listening for 30 minutes each day?  Even if you took some days off between readings you would still complete it in about two or three months.  You could make it part of family time where you all sit around the iPod and listen to the Bible (like a modern-day radio program).  Listen to it while going on walk or jog.  Listen to it during your normal prayer time to shake up your routine a little bit.  Listen to it on your commute to work like I did (prayed the rosary while going, listened to the Bible coming back home).  Regardless of how you listen to it, you will be able to check the New Testament off your reading list in now time.
Buy the Truth and Life Audio Bible now on Amazon.
Related articles