Have you ever thought about all the ways the Catholic Church teaches us the value of humility?  I never really gave it much thought, but there is an intimate connection between faith and humility.  To have faith in the power of God you must first be humble enough to realize that there is a power greater than us.  If you don't have humility then you wouldn't acknowledge God's awesome power.  And if you didn't have faith or trust in God then you are exercising pride, not humility.
Despite what some may lead you to believe, the Catholic Church is based on faith and humility, not pride and judgment.  We aren't people thinking we are so great while others are so bad.  We are people who acknowledge our sinful nature and work together to always do better.  Fr. Nnamdi Moneme, in his article on CatholicExchange, does a great job outlining the many ways the Church is built on the value of humility such as:
The nature of the Church — we are humble enough to know that Jesus is the head of the Church.
The Eucharist — we are humble enough to know that the bread and wine are Jesus' bloody and body.
The ordained priesthood  — we show humility to accept that there are a select few with the power to forgive sins and offer the Eucharist in Jesus' name.
The Church's Magisterium — we acknowledge the role of the Pope and other leaders in helping us understand Christ's teachings.
Confession — we humble ourselves to confess our sins and have faith that God, through the priest, forgives us.
Mary and the saints — we show humility asking others to pray for us and looking to them for guidance and inspiration.
The mission of the Church — we are called to serve God by serving others.
The Church's liturgy and prayer — the humble soul continues to pray to God even in the absence of visible results.
Suffering — the humble person acknowledges that God has a great plan, even if that means temporary suffering in this life.
I could probably pick any of the 20 mysteries of the Rosary and tell you how it teaches us about the value of humility.  I'll focus on the Fourth Joyful Mystery — The Presentation in the Temple.  When I first started praying the Rosary, this mystery always confused me because I couldn't find the lesson I was supposed to draw from it.  Jesus took part in many Jewish rituals throughout his life.  Why was this one important enough to make it into the Rosary?
You need to focus on Saint Simeon in the Fourth Joyful Mystery.  The Holy Spirit promised him that he would see the Chosen One before he died.  And day after day he worshiped in the temple waiting for that day to come.  The pride-filled man would have given up after days, months, or even years of waiting for God to fulfill that promise.  But Saint Simeon showed the humility and patience to allow God's plan to manifest itself which, as we know, it did when Mary and Joseph brought the baby Jesus to the temple.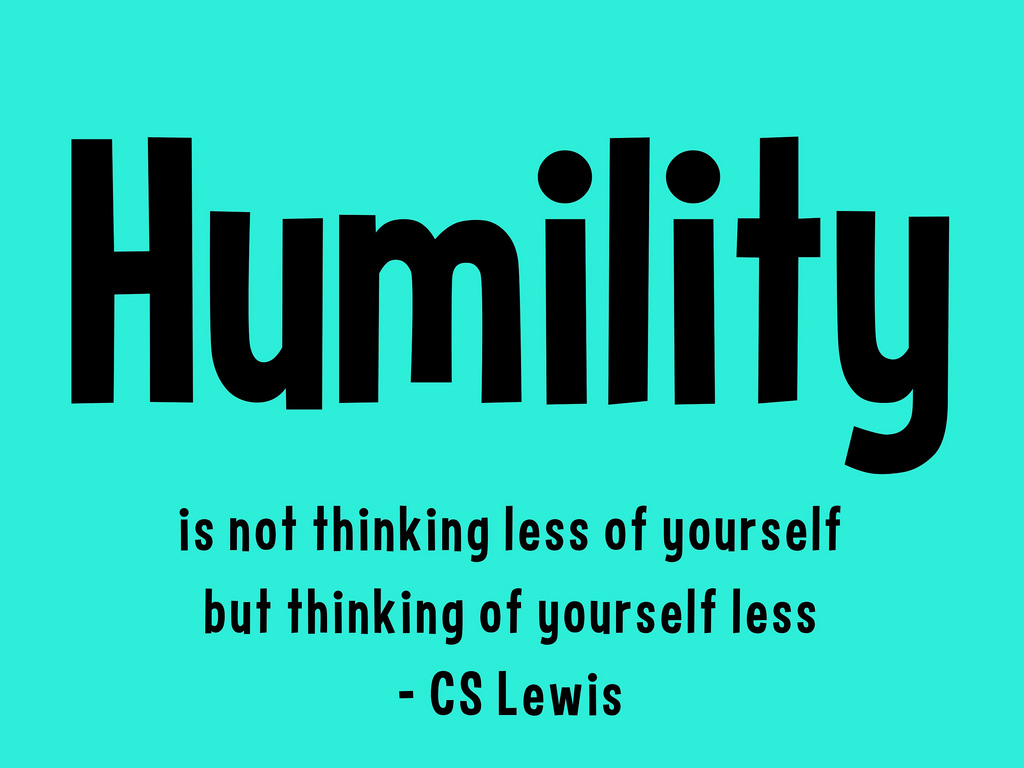 Let us all be like Saint Simeon and put aside our pride and show sincere humility.  We may not like the particular plan God lays out for us at times.  We may not like the pace of God's plan.  We may be envious that others seem to have it so much easier.  But being one of Christ's disciples means being humble enough to let go of what we want and have faith that what God wants for us is infinitely better.
I'll end with the words of Saint John of Avila who I think sums up how a humble person approaches life's challenges:
A single "Blessed be God!" when things go wrong is of more value than a thousand acts of thanksgiving when things are to your liking.
Related articles