This week marks the 40th anniversary of the Roe vs. Wade Supreme Court decision which made abortion legal at the federal level.  Because of that tragic decision, the pro-life community makes the week of January 22nd Pro-life week.  This week features prayer novenas, talks and lectures, special programs, and of course, marches throughout the United States.  Pro-life week is bitter sweet for me.  On one hand it is great to see the enthusiasm and faith of the pro-life movement as people come out and march in the tens of thousands both on our nation's capitol and on the West Coast.  But it's unfortunate that we need to assemble at all to remind our government and society of the value of human life.  Below are just some random thoughts about the pro-life movement, government, and abortions.  I hope this gets you thinking, but more importantly, I hope it gets you praying and acting.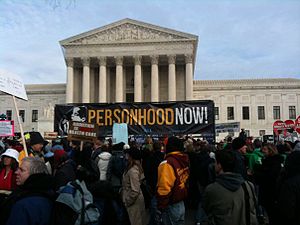 Pro-life week reminds me a little of Mothers' Day.  People always say how it's unfortunate that we dedicate one day to mothers since every day should be a mother's day.  Similarly, it's unfortunate that we dedicate one week or one day to acting on our pro-life convictions.  Every day should be a pro-life day!  However, there is one startling difference between the two events.  When you forget to call your mom or send her a card on Mothers' Day, you have one upset person.  But she'll live.  When you don't stand up for the value of life, you have 330,000+ aborted human beings per year in the United States alone.  So remember your mom, but also remember your commitment as a Catholic (and as a member of the human race) to promote the value of all human life all year long.
To put into perspective the scale of the modern-day holocaust which is abortion, consider this.  Twenty six people were murdered in the Sandy Hook shooting.  That tragedy sparked a massive response from politicians in comforting speeches and calls for new gun laws.  Now take Planned Parenthood's abortion number of 330,000 a year or roughly 37 abortions every hour.  That means the same number of lives as the Sandy Hook shooting are murdered by abortions every 42 minutes, 24/7!  And yet, the response from the political class is silent.  No speeches, no national dialogue, no executive orders, and no one saying, "Not one more child!"  Politicians were saying that they would do whatever it takes to reduce the likelihood of another Sandy Hook.  Where's the "doing whatever it takes" to protect an unborn life from being murdered every 90 seconds?
When Planned Parenthood boasts its yearly 330,000 abortions performed (which you, the taxpayer, help fund), that doesn't take into account the 330,000 additional lives that are also shattered — those of the mother's.  For every life that is murdered by abortion, there is someone who has to live with the consequences of that decision.  And you also have to throw in the fathers as well since many of them also have to deal with the reality of the abortion.  If you are taking into account other people negatively affected by abortions, you might as well consider the doctors and nurses that do the procedures.  Sure, the mother, father, and doctors' lives may not suffer any consequences immediately.  But there is plenty of data and testimonies that show the long-term damage abortions have on parents both mentally and physically.  And then there is the long-term damage abortion has on society as we devalue human life in our laws and public consciousness.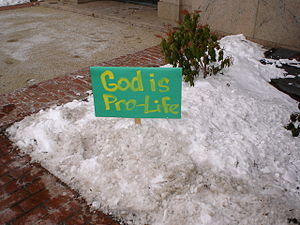 We live in a society where government is playing a larger role in our lives.  I'm not going to get into why I think that's a bad idea in this post.  But think about all the money government spends.  We are in year five of trillion dollar deficits.  The government spends money on food stamps, cell phones, health care, backing mortgages, investing in "green" technology, bailing out industries, foreign aid, and thousands of other ways that will supposedly move the United States to stability and prosperity.  And yet, not a dime from those trillions is spent to provide solutions to handling unexpected pregnancies except for abortions.  Imagine the support we could provide those surprised expecting mothers if we took the funds to Planned Parenthood and wasteful government programs and spent that on pre-natal care, mental and spiritual support, housing, and whatever else is needed to foster the new life, not kill it.  And while I loath government getting involved in so many aspects of our lives, at least we wouldn't be funding intrinsically evil acts.  If the government is going to take my money and spend it, it might as well be to support life, not destroy it.
In light of all these realities, your rosaries should be on fire from all the prayers that are needed.  Pray the rosary daily and remember your commitment to be pro-life.  And that doesn't mean to be pro-life one week out of the year, but every day.  That also doesn't mean starting a fight with your pro-choice co-workers or arguing with a pro-choice relative.  But it does mean that you defend and promote the value of life when you can.  We are all called in different ways to show God's glory and the beauty of His creation.  For some it might be side walk counselling or praying in front of abortion clinics.  For others, it means giving to pro-life charities.  It might mean participating in the Walk for Life (West Coasters, see you Saturday in San Francisco).  Don't know what your part is in this war?  That's where praying the rosary daily will help.  Ask God for guidance and He'll show you the way.
Related articles