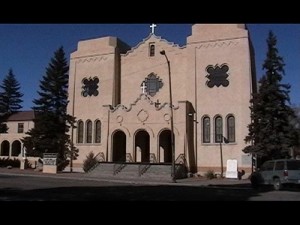 There was an interesting article on ETWN discussing the results of a Gallup poll of Catholics on various moral issues.  The article breaks down the opinions between churchgoing and non-churchgoing Catholics.  The results are as you would expect — churchgoing Catholics agree more with Catholic teaching than their non-churchgoing counterparts.  However, I wasn't so much interested in the results as I was in the notion of a non-churchgoing Catholic.
To me, a non-churchgoing Catholic is a contradiction in terms.  It is like saying you are a non-cooking chef.  Would you want to go to a doctor who was self-taught because he or she did not feel that medical school was necessary for his or her profession?  Do you think an athlete who never takes time to practice will make it into the Olympics?
Like sports, hobbies, or a vocation, one's faith requires time and dedication to have a greater meaning.  To get the most from your Catholic faith, you have to listen to what the Church teaches either by reading Her official documents, listening to your parish priest, or listening to the Holy Spirit in prayer.  In all cases, being a member of the Church requires active participation.  Participation is so important that Mass attendance is a precept of the Catholic faith.  A precept means that it is one of the minimum requirements of being Catholic.  Other precepts can be found here.  Note that a precept is something that is actionable, not a belief.  The reason why actions and participation are so important to the Catholic faith is because they allow you to follow in the footsteps of Jesus Christ whose life's work was publicly spreading the Word of God.  Thinking of it another way, no one ever became a saint by hiding their faith.  Being Catholic means living it publicly in our words, thoughts, and actions.
Our faith is rooted in celebrating Mass dating back to the secret meetings of early Christians during the rule of the Roman Empire.  The Catholic faith was always meant to be something lived instead of a mere thought exercise.  This is evidenced by people who have risked their lives throughout history by actively displaying their Catholic faith.  While I'm not saying we should all become martyrs, the fact that so many people have risked their freedom and lives should put in perspective our flimsy excuses for not praying, fasting, or attending Mass.
Ask yourself, what do you DO that makes you a Catholic as opposed to someone of another faith or no faith at all?  To me, that is a very difficult question to answer because 99.9% of my life is spent no differently than anyone else.  While I believe in the major truths of the Catholic Church, do I live out these beliefs daily or are they merely phrases I recite mindlessly in prayers?  Do my actions reflect my Catholic faith or defy them?
As we enter Holy Week, all Catholics, churchgoing and non-churchgoing, should take inventory of their faith.  I know that I mentioned this in earlier posts about making room for God in our hearts and learning about the Catholic faith.  Sometimes we have to be honest with ourselves and reflect on whether we are doing all we can to imitate Jesus.  What positions of the Catholic Church do you agree with and which ones do you not?  Regardless of what side you fall on, do you understand the reasoning and logic behind the Church's position on many moral issues?  After all, we don't want to be blind followers of Church doctrine nor mindless detractors of issues we have not approached from all sides.  On the issues where you and the Church disagree, do you stick to your beliefs because you have a fully-informed conscience or is it because it makes your life easier or you more popular?
It is no wonder why that Gallup poll shows that churchgoing Catholics are more in tune with the Church's teachings.  To look at it from the other end, it is not surprising that people who do not dedicate time to practice their faith stray from the Church's teachings.  It's not that one side is brainwashed or the other side is more "progressive" and open to new ideas.  It's not that one group is good and the other is bad.  We all have our shortcomings and sins that we need to correct.  Looking at the precepts, I'm sure all of us have occasionally failed to live up to them.  This is why we need the Mass so we can orient our "moral compass" and imitate the path of Jesus Christ.  In addition to the graces given in the Sacrament of the Eucharist, the Mass provides us an opportunity to reflect on our Catholic faith.  While technically we can reflect on our faith anywhere, the Mass sets aside time in our chaotic lives to really focus and listen to how God calls us to live.
Let us pray that we make time in our lives for God.  We should pray for those who have rejected God's Word either outright through their actions or have just lost hope because practicing their faith didn't produce the results they hoped it would.  Let us pray that we all have the courage and endurance to follow God's truths even when they seem counter to our lifestyle or more difficult than we would like.  Let us pray that in the holiest week of the year, as we accept many new people to the Catholic faith, that we remember just what a gift it is to have Jesus Christ in our lives.
It's always a good time to visit and shop in the RosaryMeds Store.