Huzzah to San Francisco Archbishop Salvatore Cordileone!  For those of you who don't live in the California Bay Area, the Archbishop has come under attack for clarifying specific teachings of the Catholic faith that high school faculty in the archdiocese must not publicly confuse or contradict.  You can read the full text of what will be included in the teachers' handbook.  However, you might as well recite the Apostle's Creed and the Ten Commandments because that's basically what the archbishop is asking teachers to uphold in Catholic high schools.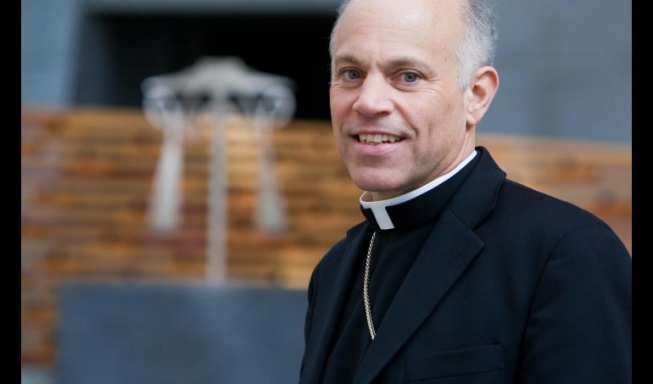 This additional wording to the faculty handbook has caused quite a stir.  Archbishop Cordileone was already under attack from various groups because of his vocal stance on traditional marriage in the very liberal Bay Area.  Now many are upset because of his request that high school teachers not confuse or dilute the teachings of the Catholic Church in Catholic schools.  He's not asking teachers to be saints or even practicing Catholics, but merely keep in mind who their employer is and what is expected of them in the workplace.  But in today's world, asking Catholic schools to espouse Catholic teachings is considered controversial.
Crackers!
Let's back up and look at other work environments.  Suppose I worked at a factory that made crackers.  I would have to follow the guidelines outlined by my employer and not do things that harm my company or consumers.  I couldn't modify the cracker recipe to my liking.  I couldn't tamper with the machinery.  I couldn't sabotage or undermine the company because I personally don't like the crackers being made or I prefer a different company's crackers.   I would be fired for such things.  Most of us would be fired if our employers caught us saying anything nasty about them on social networks.
Now look at Catholic schools.  What is their product?  I would say it's a Catholic education.  So employees (the teachers) have a duty to produce the best possible product for their employer.  Teaching personal opinions that are contrary to the Church's teachings or watering them down sabotages that product and undermines the employer.  In other professions, such behavior would land you a pink slip.
I can sympathize on how difficult it must feel to work for an employer you may personally disagree with.  Or it may be tough to accept rules that have always been in place but never really clarified or enforced.  But no lay person has ever been forced to work at a Catholic school.  Working at a Catholic school truly is a vocation because teachers generally make less money and benefits than their public school counterparts.  And some people, who may be great teachers, just won't flourish and be happy working under a Catholic employer.  Like with any form of employment, you have to ask yourself if it's truly an environment you want to work in or if there is something else that would be a better fit.
My Story
I completely understand what Archbishop Cordileone wants to avoid.  I went to a Catholic high school with a very confusing Catholic identity.  It was a great school and didn't do anything in open defiance to Catholic teaching.  But the focus on a truly Catholic education was missing. We had a one priest and one nun so there wasn't an overt Catholic presence on campus. Furthermore, many masses on holy days of obligation were optional and held in the morning before classes started. Good luck getting a teenager to school on time, let alone an hour early. The masses that were held with the full student body were more like mandatory choir concerts as no one would be actively participating except those singing. High school students are just at that age where expressing faith isn't very cool and doing so makes you about as popular as the student who sits in the front row of the class, raises his hand for all the questions, and gets A's on all the tests.
I really wish there was a strong statement like the one delivered by the archbishop when I was in high school. I think a lot of students would have benefited from going to a Catholic school rather than a secular school (in practice) that had mandatory religion classes. Since espousing the Catholic faith wasn't a priority at my high school I learned that it wasn't something I should make as a priority in my life.  I basically bought into the idea that faith was something practiced in a church on Sundays and shouldn't be made public out of the fear of offending someone. It took me a long time to realize the joy and freedom that comes with actively participating and celebrating the faith because of my experience attending a high school with a muddled Catholic identity.
I was in high school before the internet took off and no one had ever said the words social network.  Now we live in a world where there is a constant drumbeat of ideas that run counter to the Catholic Church's.  I applaud Archbishop Cordileone for not allowing the Church's core teachings to be drowned out by popular culture.  If the world is screaming and attacking the Church, the Church has every right, even duty, to shout back.
Do you stand with Archbishop Cordileone?  Take 30 seconds to sign this petition.
Related articles