I don't watch a lot of television.  However, when I find a few minutes and don't feel like doing anything serious, I enjoy watching American Ninja Warrior.  It's a show where athletes run through an obstacle course trying to complete increasingly more rigorous feats.  Most people fail to complete the entire course.  But those that do are ecstatic because they overcame the temptation to quit even when they were fatigued and were entertaining thoughts that they didn't have the ability to complete the course.
The same conflict between completing a goal or giving up because the obstacles seem too great appears in many of our spiritual lives.  Many of us have a hard time mustering up enough energy to make it through an entire rosary chaplet or Bible reading.  We all want to do God's will and form a deep relationship with Him through prayer.  And yet, despite all that we desire, we let trivial obstacles like a television show, website, or video game distract or derail us from doing what we know is good.
Saint Peter highlights what happens when we let obstacles overpower us and distract us from God's will.  In the Gospel, St. Matthew wrote about Jesus walking on the water in a terrible storm.  Peter also tried walking on the water and was initially successful but then was overcome by fear and doubt and sank (Matthew 14:22-36).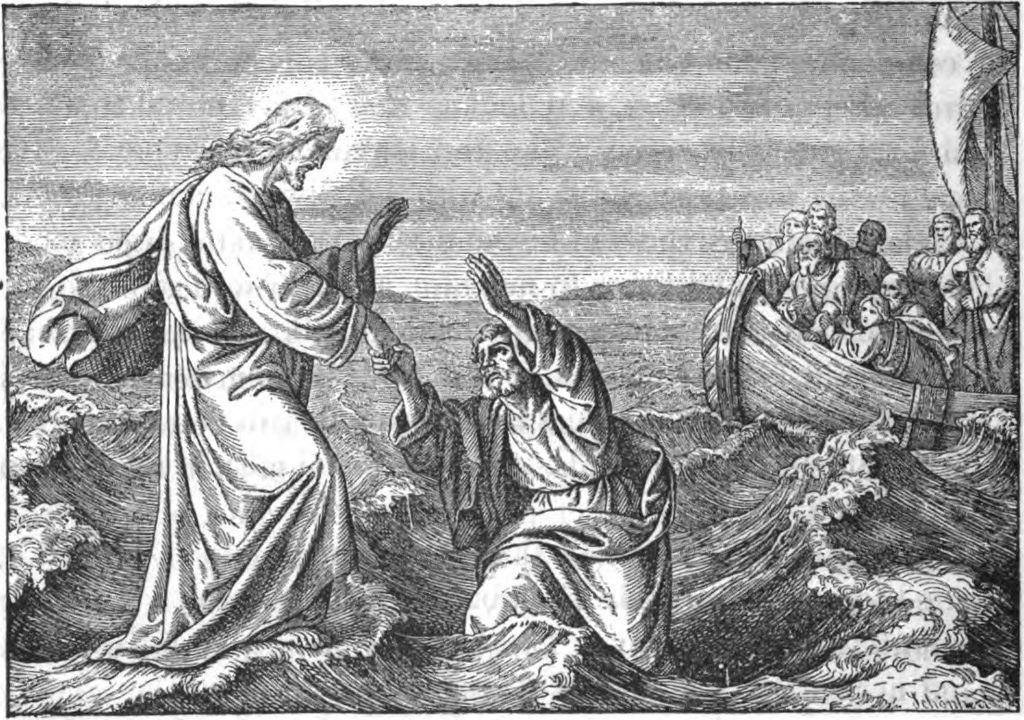 Does Saint Peter's story sound a lot like yours when it comes to prayer and doing God's Will?  I can't count the number of times I've said, "This time I'm going to stick to a rigid prayer schedule."  Or I read a book about the importance and benefits of prayer and get all excited initially only to be overcome by distractions.  Like Saint Peter walking on water, instead of staying focused on my relationship with Jesus Christ I get distracted by the world around me.
But when we make an effort to pray and act according to God's will, we actually act in a way that is doubly pleasing to God.  Rev. P.J. Michel explains in his book, Temptations:
On this principle, when you observe the law of God and do His will in a way that is displeasing to nature, you acquire a double claim to reward: first, you have obeyed, and secondly, you have obeyed with difficulty and against resistance and combat. The sac­rifice you have made of the natural inclination that solicited and impelled you is rewarded here by new graces and hereafter by an increase of eternal glory and happiness.
[amazon template=image&asin=1622823672]
What does the rosary teach us about praying through distractions and temptations?  You can probably pick any of the Sorrowful Mysteries and see Jesus' example of doing God's will despite the pain and suffering.  But that's too easy of an example for regular RosaryMeds readers!  I want to look at the First Joyful Mystery, the Annunciation.  Here we have Mary being asked to be the Mother of God.  At first, she focuses on all the earthly limitations of such a request.  "How can this be, since I am a virgin?" she asked (Luke 1:34).  But Mary didn't let all those concerns distract her from accepting the burden and the honor God wanted to bestow on her.
Now jump to the Fifth Glorious Mystery, Mary's Coronation in Heaven.  Going back to the passage from Temptations, when you do God's will in the face of difficulty, you increase your eternal glory and happiness.  What better example is there than seeing Mary crowned Queen of Heaven?  She followed God's will even when that meant seeing her son rejected and crucified.
When you don't feel like you have the time or energy to pray the rosary, look to Mary's example of the grace God gives you when you make the effort to pray and do God's will despite the difficulty.  It may be hard, but the reward dwarfs the inconvenience.
Related articles