Easter Sunday has come and gone which means life can get back to normal right? No more Lenten sacrifices so the donuts, chocolate, and beers can come out of the hiding spots. No more meatless Fridays. No more long Gospel readings. No more stations of the cross, rosaries, and being hounded to go to Confession.  Time to shelve that piety until Advent yes?
Don't start making plans for that vice-filled weekend quite yet.  Lent was a time of preparation. But preparation for what? What happened on Easter Sunday that required 40 days of training? Surely Lent wasn't about fine tuning your egg finding abilities or expanding your sugar tolerance. In terms of process, the Easter Mass wasn't any different than other Sunday Masses.  There really wasn't anything different on Easter Sunday than any other Sunday. What was all the preparation for?
Technically, Easter isn't a day but a whole season.  It lasts 50 days starting with Easter Sunday and ending at Pentecost.  Did we spend 40 days of Lent preparing for 50 days of Easter?  Do we just have to practice our faith extra hard for three months and then we don't have to think about it until Christmas?  Of course not.  In fact, there is no end date or time limit to what we profess during Easter.
When we celebrate Jesus' resurrection on Easter, we acknowledge the truth of his ministry. Jesus said that he would die and rise again and we celebrate the reality of that claim on Easter. But it's not just about celebrating that single promise, but all of his promises. Easter is a celebration of the entire Gospel where we rejoice in all the promises and teachings Jesus gave us.  If Jesus was right about the outlandish claim of raising from the dead then he was right about everything else he preached. And we celebrate and give honor to Jesus' resurrection by promising to go out and live according to his teachings.  Jesus asked us to go out and love our neighbors and our enemies.  He asked us to show compassion to the suffering and less fortunate.  He asked us to forgive those who wronged us.  He asked us to turn away from sin.  He promised eternal joy in Heaven.  He fulfilled that promise on Easter by rising from the dead and opening those gates for all of us.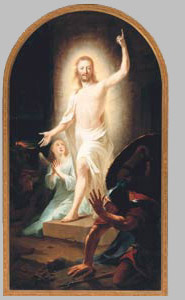 It's spring so I'm going to use a baseball analogy.  Think of Lent as the pre-season.  We exercise and got into spiritual shape through fasting and prayer.  It was a time where we worked extra hard to shed those bad habits that crept in over the past year.  But if Lent is pre-season, Easter Sunday is opening day.  Yes, it's a grand event filled with joy, hope, and optimism.  But it's one day of many. And it is one Easter season of many.  Following Jesus' teachings doesn't end on Easter Sunday any more than the baseball season ends after the first game.  Instead, it is a time of hope and renewal as we look towards living out the Gospel in its entirety for the rest of our lives.
Easter Sunday has come and gone.  The candy will disappear over the next few days.  The pastel decorations and colorful eggs will be takn down.  But the celebration continues and requires your active participation.  Continue praying the rosary.  Continue attending Mass.  Continue fasting (maybe after indulging a little on the things you gave up during Lent).  When you meditate on the First Glorious Mystery of the rosary, picture Jesus opening the gates of Heaven in his resurrection.  He showed us that there is so much more to our lives than just what we experience on earth.  We are eternal beings with souls destined for Heaven if we choose.  Our praying, fasting, penance, and charity doesn't end on Easter.  It ends when the Lord welcomes us into his kingdom that he made available to us through his resurrection.  Keep your rosaries close and God even closer!
Related articles