There has been so much happening at the intersection of politics and religion lately (it's a block down the road from the intersection of crazy and truth).  We have the Supreme Court rulings on gay marriage, abortion standoffs, international issues in the Middle East, Obamacare's HHS mandate, scandal after scandal, and immigration reform debates.  Political developments seem to come in so fast that if I took the time to write in depth about any one issue, a dozen more would come to the forefront before I could publish it.  So I will leave it to the political news sites to report on the details of these stories.  They have the resources and the audience to go into much more detail than I ever can.  I will stick with what I know — rosary prayer and meditation.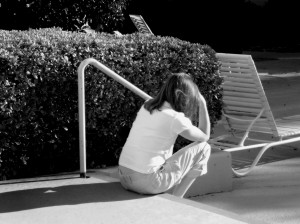 I think it is so easy to read the current headlines and get discouraged.  One would think that the world is on the brink of falling apart completely.  What is wrong or evil are considered virtues.  What was once thought of as good and decent are now seen as hateful and intolerant.  Common sense seems to be in rare supply.  Humanity appears to be in a tailspin from which there is no recovery.  But that type of thinking assumes that the current state of the world is somehow drastically different from the past.  It assumes that there was a time when all was good and peaceful in the world and that recent conflicts are the exception to history.  But can you think of a time in human history when everything was fine?  I hate to be the bearer of bad news, but the world has always been a violent, hostile, and illogical place, especially towards truth, values, and faith.
If you want to see how cruel this world can be to those of faith, you don't need to look any further than the mysteries of the rosary.  First start with the easy ones — the Sorrowful Mysteries.  Each mystery shows how humanity treats the source of truth and love, Jesus Christ.  He's betrayed in the First Sorrowful Mystery, scourged in the Second, crowned with thorns in the Third, carries a cross in the Fourth, and is crucified in the Fifth.  Not exactly a pleasant view of how humanity treats people of faith is it?  You can look at other mysteries too if you want to see how hard it has been to live morally.  When you pray the First Joyful Mystery, imagine how difficult it must have been for Mary, an unwed teenager, to learn that God called her to bear His Son.  Meditate on the Third Glorious Mystery and picture the apostles locked in a room out of fear of being found and killed by those who crucified Jesus.  History shows that following God's plan often presents more challenges and defeats than victories.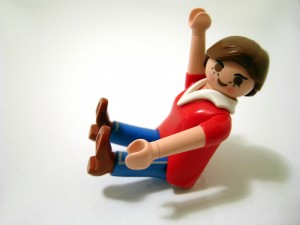 So what are we, as people of faith, to do?  Do we cast off our religious values and embrace the trends society embraces?  Do we hide our faith so that we don't offend anyone?  Do we go on the offensive and use every dirty trick in the book to force a better world?  Again, we only need to look as far as the rosary.  When confronted with the difficult challenge of God choosing Mary to bear His son, she humbly puts her faith in His plan.  The apostles, when confronted by a hostile world, found strength in the Holy Spirit to proclaim God's Word.  And Jesus, in the Sorrowful Mysteries, endured the torture and insults the world flung at Him.  Even at His lowest moment in His Passion, Jesus never stopped loving and forgiving.  Jesus practiced what He preached even in His most difficult moments.  And so God calls us to act like Mary and say yes to His plan even when in conflicts with the social norms of our society.  We must remember, like the apostles, the Holy Spirit empowers us to proclaim God's Word.  And Jesus calls us to imitate Him and live according to His truth despite the suffering the world will heap upon us for doing so.
It isn't all suffering and defeat.  To end on a positive note, remember that this world and our lives are only temporary.  The entirety of human history is but a blink of an eye compared to the enormity of the afterlife.  The problems and turmoil of today, while they may seem large to us now, are nothing compared to the joy and happiness of Heaven.  That isn't to say that we can turn a blind eye to this world and its problems.  But we must keep everything in perspective.  We fight the good fight but our goal is Heaven, not this world.  Remember, the crucifixion isn't the last rosary mystery.  We have the entire Glorious Mysteries after that where Jesus conquered death and prepared a place for us in His kingdom.  Our end is not tied to a Supreme Court ruling or the HHS mandate.  Our end is not summed up by bills, laws, and elections.  Our final end is praising God forever in Heaven.  Keep that in mind the next time you read the Drudge Report and feel like throwing your chair out the window in despair.
Related articles