This upcoming Sunday's Gospel is from Matthew.  I'm only including the part I'm going to reflect on in this article.
When he saw many of the Pharisees and Sadducees
coming to his baptism, he said to them, "You brood of vipers!
Who warned you to flee from the coming wrath?
Produce good fruit as evidence of your repentance.
And do not presume to say to yourselves,
'We have Abraham as our father.'
For I tell you,
God can raise up children to Abraham from these stones.
Even now the ax lies at the root of the trees.
Therefore every tree that does not bear good fruit
will be cut down and thrown into the fire.
I am baptizing you with water, for repentance,
but the one who is coming after me is mightier than I.
I am not worthy to carry his sandals.
He will baptize you with the Holy Spirit and fire.
His winnowing fan is in his hand.
He will clear his threshing floor
and gather his wheat into his barn,
but the chaff he will burn with unquenchable fire."
In this Gospel passage, John the Baptist makes a distinction between piety and good works.  The Pharisees and Sadducees considered themselves good people because they followed the Mosaic law to the letter.  But John implies in his comparison to a tree not bearing good fruit that just following rules or having a certain status does not lead to salvation.  One must follow up with good works, charity, and compassion.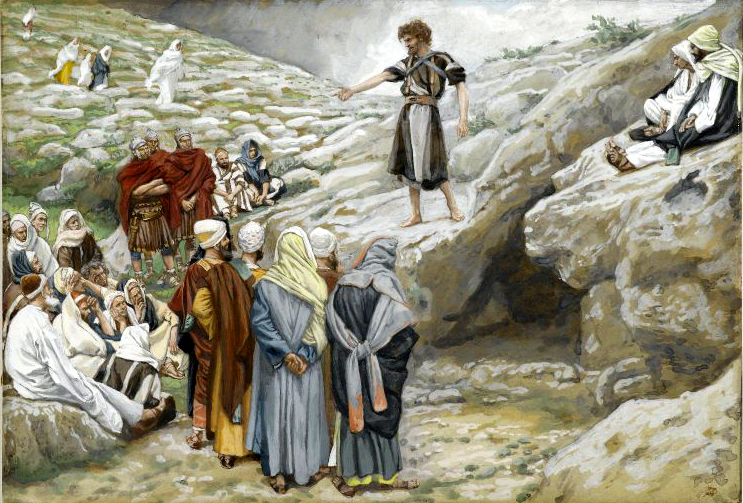 Good works, charity, and compassion were the cornerstone of Jesus' ministry.  He came into this world, not as someone of status and authority, but as a servant who ministered to those people society had excluded.  Jesus repeatedly taught that what matters most to God is what someone does, not what their title is.  Whether it was teaching the golden rule or telling the parable of the poor woman who gave all she had to charity, Jesus' ministry centered around instilling the value of good works and sacrifice.  Inversely, those who only followed rules and sought status and honor He routinely called hypocrites.
This past Thursday's Gospel from Matthew echoes a very similar message:
"Not everyone who says to me, 'Lord, Lord,'
will enter the Kingdom of heaven,
but only the one who does the will of my Father in heaven."
Notice how Jesus is saying that just accepting Him as the Savior is not enough.  You have to follow up with action what you proclaim in your words.  To put it in more modern terms (but now maybe ridiculously outdated), you have to walk the walk, not just talk the talk.
When you hear and read this Gospel, meditate on the Second Joyful Mystery of the rosary, The Visitation.  Think about Mary in this mystery, someone who recently learned that she was to be the mother to the Massiah.  What does she do?  Does she flaunt the fact that an angel visited her?  Does she go about looking for an elevated stature in the community?  No.  Instead, she travels to visit her cousin Elizabeth and helps her through her pregnancy although she herself was pregnant.  Mary's initial action after the Annunciation was one of charity.
Also, consider the Fourth Glorious Mystery of the rosary when you reflect on this Sunday's Gospel.  Mary was assumed into Heaven and now acts as our intermediary to her son, Jesus Christ.  Even when bestowed the title Queen of Heaven (Fifth Glorious Mystery), she has never stopped actively guiding us through the minefield of life.  She protects us from evil, helps those who ask for her assistance, and has continually appeared to many delivering a message similar to John the Baptist in the Gospel — Jesus loves you and wants you close to him, but you must make the effort to love Him through good works, charity, and compassion.
Related articles