"But I don't want to clean my room!"
"Do I have to clean the dishes now?"
"But this show is almost over! I'll take out the trash once it's done."
"But I'm not tired!"
I think nearly all parents hear excuses like these on a near daily basis. They engage in a constant struggle to instill a solid work ethic in their children and have them focus on others' needs and not just what they want. But it is just as easy for adults to fall into periods of laziness when we don't always choose what is best for us or for others. We cheat on our diets, we skip exercise, and we procrastinate on tasks like paying bills or conducting household maintenance in favour of watching television or browsing the internet. And I think we all have a tendency to skip or race through our prayers, especially the rosary. Although we may love the rosary generally, we are often no better than children when we find excuses to avoid praying it.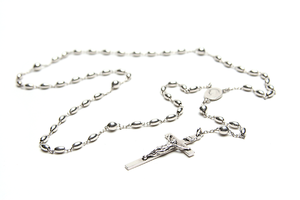 This past Lent I felt like I received a lot more value from my rosary meditations all thanks to a few simple tweaks to my prayer routine. The biggest change came from thinking of a specific intention for each "Hail Mary" I recite. Praying for a specific intention combated that tendency to go into mental "auto-pilot" and start reciting the words more as worthless incantations than focused prayer. This habit of offering specific intentions started in earnest when I adopted a Catholic cardinal for the papal conclave. While I was praying for Cardinal Juan Sandoval Íñiguez of Mexico, I also offered intentions for family members, friends, and priests as well as presented my thanks for all that is good in my life and remorse for my sins.
Are you scared about the seemingly daunting prospect of coming up with an intention for each bead in a rosary? You would be surprised how easily one intention acts as a seed for many others. For example, when I pray the Second Joyful Mystery, The Visitation, I start by praying that all expectant mothers raise their children to know God's love. That intention leads me to pray for the change of heart of all expectant mothers who are considering abortion. I then find myself praying for sidewalk counselors and those who pray in front of abortion clinics. That leads me to think about the change of heart of those working in the abortion industry. I follow with prayers that politicians (particularly Catholic ones) who publicly support the abortion industry let the Holy Spirit into their hardened hearts. Once I started attaching a few intentions to those "Hail Marys," the rest came pouring in.
This Lent I also rekindled my love of rosary guides that contain scripture passages and commentary on each mystery. When I'm tired and feel like racing through the rosary, I often want to hide my rosary books in a drawer and forget they exist. I rationalize that I have already read them repeatedly and cannot derive much more use from them. Why do I need to reread the Bible verses of the Transfiguration or the Miracle at Cana? Why do I need to read commentary and meditations I've read a dozen times already?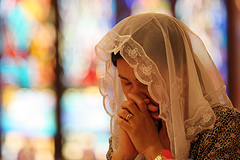 I am so glad when I do convince myself to read and integrate a guide into my rosary prayers because I discover something new every time. While the text stays the same, it speaks to me differently because I live through new experiences and the world at large changes every day. For example, I never would have thought back in January that I would now be praying for Pope Francis. Or maybe the Fourth Sorrowful Mystery of Jesus carrying His cross will have a more personal significance to me after a difficult day at work. The same scriptural passages, commentaries, and meditations take on different meanings each time I read them. And these new ideas then manifest themselves as new intentions that I pray on each rosary bead which in turn makes me think of even more intentions, thanksgivings, and remorses. The rosary is no longer a static set of prayers, but is a dynamic dialog with Jesus, Mary, and the saints.
Looking for a good rosary prayer guide?  Try mine!
I believe that when people criticize rosary meditation, they envision someone mindlessly chanting the same phrases repeatedly. They invoke Matthew 6:7 — "And when you pray, do not keep on babbling like pagans, for they think they will be heard because of their many words." What the critics do not understand is that the rosary is not "babble" when you put forth specific intentions, sorrows, and thanksgivings before our Mother Mary who then strengthens your prayers before her Son, Jesus Christ. When Mary gave humanity the rosary, she did not intend it to act as a medium for mindless incantations but instead she wants us to really make it our own. And when we pray the rosary as Mary intended, we no longer see it as a chore to avoid, but as a moment of peace and joy in our busy lives.
Related articles