It's here!  After a year of careful assembly, I'm proud to announce my first-ever, self-published book, "The Rosary for the Rest of Us: A Practical Guide to Our Most Powerful Prayer."  Inspired by the articles on RosaryMeds, this book should help you get so much more out of your rosary prayers.  Full of meditations, intentions, and illustrations on all 20 mysteries, this book has a little something to boost everyone's rosary prayers.  This will make the perfect companion to anyone who prays the rosary (or wants to start praying the rosary).  On sale now!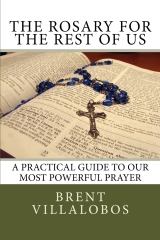 I want to acknowledge and thank everyone who helped make my goal of becoming a published author a reality.  I could not have done this without my editors — Barbara, Linda, Rebecca, Voytek, and Zofia.  Thanks for taking the time to read the book and provide feedback.  I also want to thank Jakub.  Originally, I was going to turn my rosary postings on this site into a pdf file and just distribute it as an ebook through the RosaryMeds website.  It was Jakub who urged me to publish it "for real" and make it available to a wider audience.  And so, now this book is available on Amazon in paperback and will hopefully be on the Kindle soon.
I really don't know what to expect from this book now that's its gone live.  Sometimes the delusional side of me envisions interviews on EWTN Catholic radio or the Catholic San Francisco newspaper writing a review on my book.  I would love to be at Mass and see someone with the book tucked under their arm or hear that rosary prayer groups are using it.  More realistically, it would be nice if enough people bought the book to cover operating costs of RosaryMeds.  But honestly, I will be enthused if this book motivates someone to pray the rosary who otherwise would not.  I truly hope that my efforts will bring at least one new person into the world of the rosary.
Just in time for Christmas.  Here are just a few ideas for purchasing "The Rosary for the Rest of Us":
Stocking stuffer for someone on your gift list
Combine it with the purchase of a rosary to create the ultimate rosary prayer kit
Us it to pad your Amazon order for free shipping
Order it now, either from the CreateSpace eStore or Amazon, to get it by Christmas.
Related articles