A few weeks ago, a federal judge ruled that pharmacies must provide the emergency contraceptive pill, known as Plan B, over the counter to women of all ages. Upon reading this story online, I immediately expressed my outrage and concern in the comments section of the article. Big mistake. No sooner had I posted my comment that I got back several snarky replies about how I was misinformed and I should do more research before making comments. Receiving such a backlash stung my ego a little. But instead of feeling down because a bunch of people who don't know me didn't like what I had to say, I asked myself, "what do I do now?"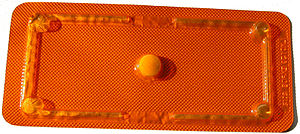 Let's back up a bit. What was the Plan B ruling? Plan B is emergency contraception that until recently, was available over the counter to women age 17 or older (but you still had to get it directly from the pharmacist's counter like certain allergy medications). It was prescription only for women under 17 years old. The Food and Drug Administration, after reviewing an application from Teva, who manufactures Plan B, recommended that it be made available over the counter for women under 17 years old. Health and Human Services secretary Kathleen Sebelius, overruled the FDA's decision. U.S. District Court Judge Edward Korman then ruled that Sebelius' actions were "unreasonable, capricious, and arbitrary" (if only someone would rule the same regarding her contraception mandate) and overturned her overrule.
My comment was two-pronged. First I argued that contraceptive drugs like Plan B aren't safe for over the counter use like vitamins since they contain some very powerful chemicals that have a side effects list as long as a Victor Hugo novel. I know many people in the medical community that share the sentiment that there are very good reasons why birth control pills should require a doctor's prescription. I went on to say that judges or politicians should not be the ones deciding drugs' availability, but those decisions should be left in the hands of the medical community. That second comment is where people tore me apart because they said that the medical establishment via the FDA already ruled that Plan B was safe for OTC release to women of all ages. I just want to point out that the FDA, is also a political organization that doesn't always make policy based on science, but on agendas and ideology.
This message board encounter was a bit of a revelation to me. I always knew that Catholic teaching was at odds with popular culture. But I often forget just how wide that divide really is. Try this and see for yourself. Go to an article on a main stream media website and voice a Catholic opinion as a comment. Just don't take the wave of verbal assaults personally.
I didn't respond to my critics in those comment threads because I realized just how futile arguing would have been. Our worldviews are so different we might as well have spoken different languages. I couldn't explain the Catholic Church's teaching on the dignity of the human person, the gift and responsibilities of sexual intimacy, the science that life begins at conception, that Plan B can act as an abortifacient, and a whole litany of other topics that one has to understand before having a reasonable dialog about Judge Korman's Plan B ruling. They don't understand how I can practice a faith that, in their eyes, is homophobic, anti-women, anti-science, and corrupt. That understanding gap is just too wide to bridge in an online article's comments section.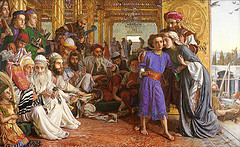 Prayer! That is the prescription for this condition where two sides just don't have the same moral viewpoint. After all, Jesus asks us all to pray for each other, especially our enemies and those who hate us. I think a good dose of meditating on the Fifth Joyful Mystery of the rosary, the Finding of Jesus in the Temple, is appropriate in these cases. Joseph and Mary travelled far before realizing Jesus was no longer with them. Similarly, many people today have wandered far from Jesus' teachings and His call to conversion. We pray for those who are lost and confused in the moral wasteland of modern society. And we pray that we all have an awareness of God's Word and how well we live by it. Because whether we are close or far from His grace, we can always make that journey to reunite with Him. We pray for the patience that one day the Holy Spirit will touch the lost souls' hearts at just the right time and place where they will be most open to Jesus' call to conversion to His Truth. We need to have faith that our prayers will have much more impact than arguing in the comments section of an online news article. You cannot argue some into conversion, but perhaps prayer will touch them in a way words will not. It is only through prayer that we can come together on the solid foundation of God's Word and discuss laws and policies based on truth, compassion, and dare I say, facts!
Special little RosaryMeds teaser.  I'm creating something that will require all the great prayers and meditations from the rosary-praying community.  It will be your opportunity to help others get more out of their rosary prayers.  Stay tuned!
Related articles