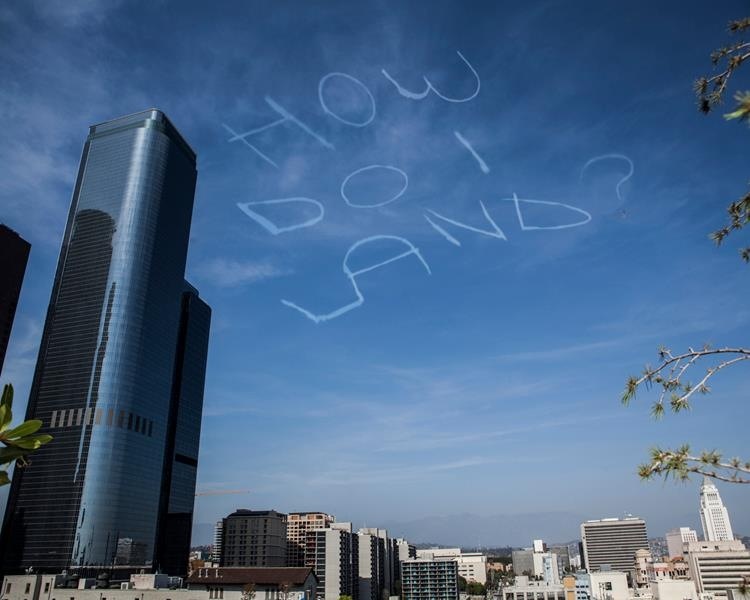 As a joke, a comedian named Kurt Braunohler ran a KickStarter campaign to fund writing a funny message in the sky. I think anyone who saw "How do I land?" written in the sky that day got a good chuckle (as well as the millions who saw it on the internet).  And while this was obviously a joke, this little stunt did get me thinking about how often we say and do things without considering the consequences.  How often do we "fly" through life not thinking about the "landing" when we'll need to account for our actions in front of God?
We too often act like a pilot who takes off with no plan on how to land. We just move from one moment to the next without really contemplating the moral trajectory of our lives. Many of us tend to ignore the fact that some day we'll need to account for all actions in front of God.  We just assume that somehow everything will just work out. We tend to block out of our minds the eventual conclusion to life which is death, judgement, and either eternal happiness or eternal damnation.  We cannot put off this eventuality any more than a pilot can ignore that one way or another, any plane that is in the air must eventually come down.  Ask yourself, how are you going to "land" in life?  When you die, will it be a smooth landing into God's heavenly kingdom or will you crash and, quite literally, burn?
Living without considering the long-term consequences of your actions is more than just ignorance; it's selfishness.  You not only disregard the effect your actions have on the people around you, but you also disregard the gifts, talents, and intellect God gave you.  God gave you a mind, heart, and soul so that you could use it to know Him and live according to His Will. Pope Francis talked about the destructive nature of selfishness in his May 15 homily where he used Judas as an example:
Pope Francis noted that Judas was "off in his solitude" and that his "attitude of selfishness developed into the betrayal of Jesus.  Those who give their life for love are never alone and are always in the community and in the family," Pope Francis said.  "On the other hand, he who isolates his conscience in selfishness, loses it in the end," he stated.
Judas is the perfect example of someone who didn't think about the long-term consequences of his actions but lived from one isolated moment to the next. All he saw was 30 pieces of silver for leading the authorities to Jesus. Did he consider what would happen to Jesus after that?  Did he consider how he would feel? Maybe not. Maybe he was so self absorbed that he never looked past the financial windfall. A pilot who doesn't know how to land a plane will eventually run out of fuel and crash. And that is exactly what happened to Judas — when the reality of his actions finally kicked in, he mentally and spiritually crashed and then took his own life as the ultimate selfish action.
We have a problem as a society in that we are becoming more isolated and self absorbed. I mentioned in a previous article how we are losing that moral foundation that helps regulate our actions and consider the long term consequences. This is why it is so important to attend Mass every Sunday and pray regularly. These actions give us time to reflect on the consequences of our actions and how they may affect us and others.  When we don't attend Mass, when we don't adhere to any doctrine, or pray regularly, we will find ourselves in a similar situation as the pilot who does not know how to land a plane — flying high one moment but always moving closer to an inevitable crash.
Meditate on the Fifth Joyful Mystery of the rosary– The Finding of Jesus in the Temple.  Think about how Mary and Joseph turned around from their caravan and searched for Jesus for three days before finding Him in the temple.  Of course someone who loses their child will search relentlessly until they find him.  That is what any loving parent would do.  What is not so obvious is that many of us often go through our lives unaware of how far we are from Jesus.  Do we "turn around" and start looking for Him?  For some, that may mean returning back to the Church after being away for a long time.  For others, it might mean realizing the sinful nature of their lives and committing to a life of conversion.  And for most of us, it probably means making small reflections in routine prayer and making small life course corrections through the Sacrament of Reconciliation.  God wants a smooth landing into His kingdom for all of us.  The question is, are you thinking about how to land?
Related articles