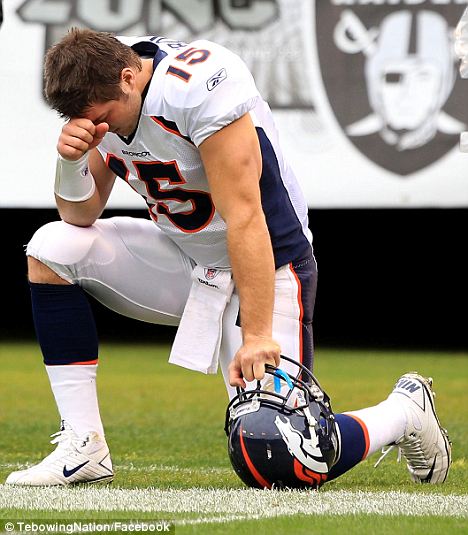 Scandals in professional sports is nothing new.  Every few weeks we hear about an athlete cheating on a spouse, using drugs, squandering money on an extravagant lifestyle, or being arrested for any number of crimes.  And yet, if you were to take the secular media's take on professional sports, the most scandalous and controversial athlete of the last few months was Tim Tebow because he (gasp) prays publicly!  And now there is another devout Christian in pro sports making news headlines.  Basketball star, Jeremy Lin, of the New York Nicks has been on fire lately; helping his team to seven victories in a row.  And like Tebow, Lin does not hide his religion either.  So what can Tim Tebow and Jeremy Lin teach us about prayer and the rosary?
Unless prayer is part of your life, you probably won't understand people who pray publicly.  Many people see Tebow's taking a knee in a game as some sort of act of self-righteous piety.  But to Tebow, turning to prayer is just as natural as saying "please," "thank you," or "sorry" when the situation calls for it.  When something great happens, Tebow turns to God and thanks Him.  In any situation, whether it be a call for help or in thanksgiving, God is Tebow and Lin's almost-instinctual "go to" person.  The fact that their faith seems weird and out of place tells more about our society and our values rather than their character.  But they can't hide their faith or "tone it down" any more than we can stop our hearts from beating.  Prayer is just part of their DNA.  And in my opinion, that is something to be praised and admired, not mocked.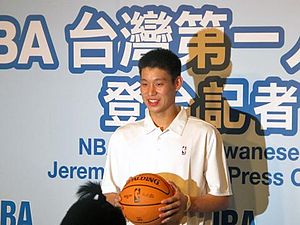 Tebow and Lin's focus on their faith and prayer reminds me of the First Sorrowful Mystery of the rosary — the Agony in the Garden.  Jesus was scared before His arrest and crucifixion.  And when He found Himself in a difficult situation, Jesus' immediate reaction was to turn to God and ask for help through prayer.  I'm sure that those who arrested Jesus, the pharisees that tried him, and Pontius Pilot who condemned Him probably all wished that Jesus would have "toned down" all that Messiah talk much like how many of us wish that some outwardly religious people would just shut up.  But being connected to God through prayer was an integral part of who Jesus was.  And, as followers and imitators of Jesus, we are called to make prayer an integral part of our lives too.  When we pray the First Sorrowful Mystery we should ask God for the strength and wisdom to constantly turn to Him in prayer regardless of the worldly consequences.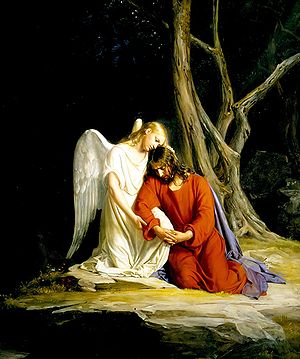 Another aspect of the Agony in the Garden is how God chooses to answer our prayers.  While Jesus asked that God find another way to bring salvation to the world besides crucifixion and death, Jesus did yield to God's ultimate wisdom.  It may seem that God did not answer Jesus' prayer since He asked to be spared but was ultimately crucified.  But God did answer Jesus' prayer by giving Him the strength and courage to face His physical and mental torture.  When we pray, we should realize that God does answer us and leads us, but probably not in the way we expect.  Tebow won't win a football game because he asks God for victory.  Lin won't always score 20+ points every game because he asks God for it.  We won't win the lottery or get a promotion at work because we pray for it.  God knows that winning a football game, winning the lottery, or receiving that promotion won't make us ultimately happy.  In fact, given our innate human weakness, the more worldly success we have the more likely we are to move away from God's grace and true happiness.  God wants us to be ultimately happy by living forever in His heavenly kingdom.  And so we should look for the answers to our prayers that will meet that goal instead of the short term, and often short sighted, happiness we seek in life.
And so, when we see an athlete like Tebow take a knee and thank God, we should aim to imitate that behavior, not ridicule it.  We should be always conscious of our relationship with God which means constantly talking to God in prayer.  It seems like we spend so much time announcing to the world what we are doing through Twitter and Facebook.  Well, perhaps we should also remember to update God about our joys, sorrows, and worries.  Because ultimately, having a close relationship with God is all that really matters.  When you have that, everything else falls into place.
Do you want to learn more about the First Sorrowful Mystery and other rosary mysteries?  Read "The Rosary for the Rest of Us."  Available now on Amazon.
Related articles