Anyone who knows me knows that I love movies. We are now entering the summer blockbuster season and there are many films that look promising. I think the movie I'm most looking forward to is the next Superman movie titled Man of Steel. Here's the trailer for the movie that I'm going to reference in this article. Note the biblical undertones.
[youtube]T6DJcgm3wNY[/youtube]
The latest Superman movie, Man of Steel, puts a spin on the iconic super hero. Other movies in the franchise show a Superman who jumps at every opportunity to use his powers in service of helping humanity. He is essentially a boy scout with super powers. This new movie asks, what if Superman doesn't want to be Superman but instead chooses a life as an anonymous human being? The trailer presents two possible outcomes if he reveals his super human nature. He might be rejected, feared, and made an outcast because he doesn't fit in (he is an alien after all). Or he will be seen as a role model that humanity strives to imitate. From the trailer, it looks like he initially believes the former idea and tries his best to hide his super nature by living off the grid as a fisherman.
Let's look past the obvious biblical references in the trailer such as the voiceover saying how Superman will be like a god to humans, how he is seen as a "guardian angel", or that he chooses to work as a fisherman. I want to focus on Superman's choice to hide his powers and try to live a "regular" life. Can you blame him? After all, look at the other Superman movies where the world expects him to protect humanity from ourselves. He becomes responsible for stopping anything bad from happening whether it be bank robberies, car brake failures, plane crashes, or nuclear armageddon. Would you want to be the person the world relies on to prevent all misfortune 24/7?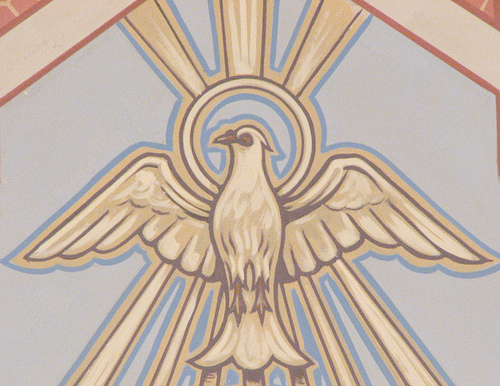 We, as Catholics, are very much like this new Superman. We too are given tremendous gifts and powers. Okay, we cannot fly, have x-ray vision, or outrun a train. But we do have other powers that transcend mere physical capabilities. We have power from the Holy Spirit and God's grace. That manifests itself in the knowledge to know good from evil and the strength to choose the good even when evil seems easier or more attractive. We have the power to keep going, to keep trying, to keep forgiving, and to keep loving regardless of how hard life tries to knock us down.
We also have the super powers of hope and faith. We have hope that we will one day find eternal happiness in Heaven by living in God's grace here on earth. We have faith that there is more to our lives that what we experience in this world and it's worth enduring trials and hardship since we will find comfort in Heaven. It's the Holy Spirit that gives us strength to live for God's kingdom. Superman may have limitless physical abilities. But Christians have limitless spiritual abilities.
Much like Superman hiding his physical power in Man of Steel, we often want to hide our spiritual gifts and just "fit in" with everyone else. Because using those gifts to live as people of God will often make us outcasts in society. For example, when we use our knowledge of good and evil to call attention to the evils of abortion, the world condemns us as hate-filled, uncompassionate, and tyrannical. Or we have a gift of knowledge that tells us that cheating, lying, stealing, being greedy, or lustful are evils that should be avoided. But we so often want to pretend that we do not have that gift of knowledge so that we can do whatever we want. Like Superman, we don't want to stand out because we are afraid that with great power comes great responsibility (I know that quotation is from Spiderman, not Superman, but it fits well).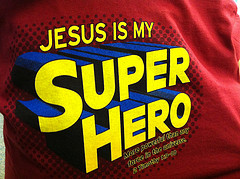 When we pray the rosary, think of the Third Glorious Mystery, The Coming of the Holy Spirit, as Christianity's superhero origin story. It was the Holy Spirit that transformed the apostles from scared deniers of Christ into evangelists who would lay down their lives to spread Jesus' teachings. Pray for an openness to the incredible power the Holy Spirit gives us to live according to God's Will and Jesus' teachings. Jesus taught that a lamp isn't meant to be hidden under a basket, but put out on the table to illuminate the world around it.  And superheroes aren't meant to keep their abilities bottled up.  We are spiritual superheros!  And so we are called to be that shining example of God's love to the world. We pray for the strength to live according to God's Will especially when it seems easier not to. Because deep down we know that following the path God lays before us will always lead somewhere good. Maybe we won't find that goodness in this life, but we will certainly find it in God's heavenly kingdom.
We also should meditate on the Fourth Joyful Mystery, The Presentation in the Temple. Remember, Simeon is a perfect example of how our faith is a type of spiritual super power.  He waited and prayed in the temple his entire life on faith  because the Holy Spirity told him that he would one day cast his eyes on the Savior. And when Jesus came for His presentation in the temple, that promise was fulfilled. I like to think that it wasn't Simeon's own abilities that gave him the will to come to the temple every day for many fruitless years. Instead, it was his faith and openness to God's grace that allowed him to persistently look and wait for Jesus. When we earnestly pray for that same strength, God will surely give it to us. All we have to do is ask. Of course, God may also throw some challenges our way too just to show us that we do, in fact, have the strength to overcome life's obstacles. After all, what good are super powers if we don't have super challenges to test them?
Related articles