I read this article about the value of reading the Bible slowly and contemplatively. The author, David Mathis, compared meditating on the Bible to enjoying a well crafted meal as opposed to trying to scarf it down quickly like you're in a hot dog eating contest. This article got me thinking that the same principle of meditative bible reading applies to rosary prayer and relates to what I wrote in my last post about finding happiness.
World-class eaters would never stuff themselves at top speed at every meal, but many of us are prone to come to Bible intake like we're scarfing cheap hot dogs. When morning devotions are simply our first to-do of the day, and we set out simply to read a chapter, check a box, and complete the task, we end up putting ourselves through something more like a hot dog eating contest than an enjoyable, nourishing, life-giving meal.
You can basically replace the word "Bible" in the article with "rosary" and the overall message remains the same. This echoes what I said about how not understanding the why behind rosary prayer reduces it to a check box on your daily to-do list.
What I'm going to do going forward is really take my time praying the rosary and emphasize quality over quantity. I don't think Mary sits all day on a cloud in Heaven with a clip board making notes on how many rosaries I complete. The rosary isn't an all or nothing proposition where it doesn't count if you don't complete the entire rosary. After all, what does a complete rosary even mean? Five mysteries in a 24 hour period? Five mysteries in a single sitting? All 20 mysteries? The 15 original mysteries? The meaning of a whole rosary can vary greatly depending on the individual. So why race through a rosary to met some arbitrary standard?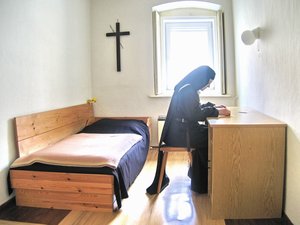 I'm not saying that you should just give up praying the rosary or not set a goal of praying it. What I am asking is that you don't water down your rosary praying by racing through it in order to meet that goal. I think Mary appreciates a single decade prayed earnestly over five decades prayed hastily. Some days you may manage a single decade. Other days you may have the energy and concentration for all 20 mysteries. The idea is to not go through the motions to reach a goal but also don't stop just because you prayed a certain number of mysteries. It's not like you or Mary are trying to meet some sort of monthly rosary quota. In short, use your rosary prayer time to its fullest by making the most of each prayer.
Did you just rattle off 10 Hail Marys while thinking about last night's hockey game?  Stop!  Do it again.  Did you just completely forget what mystery you were praying?  Stop!  Take a break and come back when you have more focus.  Where is the downside to acknowledging that you actually weren't praying for the last five minutes and trying again?  There is no downside if the purpose of your rosary prayer is to pray it earnestly, not to complete the loop.
Related articles