Now that my son has started kindergarten, my family's leisurely mornings are a thing of the past.  We now have to wake up early and help get our son fed, dressed, packed, and out the door before the opening school bell.  Like race horses at the starting gate, when that alarm clock rings in the morning we need to be off at a full gallop to get everything done.
My week day routine is not unique.  Many people start their day ten steps behind and are in a constant rush.  And among the snooze alarm pushing and coffee chugging, something very important is often missed.  And this one action might determine whether you have a good or bad day.  Here's a clue, it's not checking your Facebook and Twitter feeds the instant you get up.  Long time RosaryMeds readers can probably already guess where I'm going.  Morning prayer may be the difference between a good day or an off day.
When we skip morning prayer, we so often go through our day not realizing that we are fighting a battle with our hands tied behind our back.  We are like soldiers going off to battle with no weapon and no protection wondering why everything is so hard and miserable. This is because we did not include Jesus in our day by praying to Him or asking our Holy Mother or the saints for their help and intercession.
In his book,  Live Today Well, Fr. Thomas Dailey writes about the importance and benefits of starting your day focused on God from the instant you open your eyes.
Beyond an existential awareness, the practice of directing our minds to God corresponds to and fa­cilitates a positive psychology. Experience shows that the mood with which we begin the day tends to color the entire day. What Francis de Sales understood is that start­ing the day with God in mind leads to keeping God in mind throughout the day.

All of this is intended to turn our morning routine into a sacred one. Routines play a key role in human life. Able to be done without our giving them much thought, they are comfort­able, and often comforting, acts. Psychologically, even if not consciously, they represent a way of exercising a modicum of control over the chaos of our surroundings. Our habits lead us to do the same thing over and over again each morning; were we to deviate from this habitual routine, we would probably think something was "off " or just not right.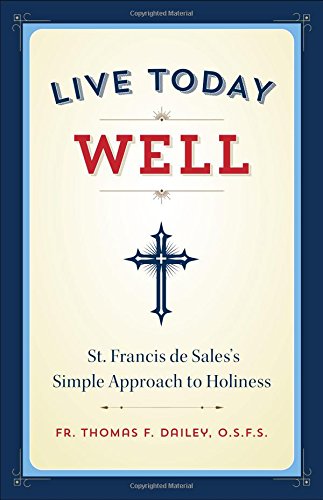 The Fifth Joyful Mystery of the Rosary (The Finding of Jesus in the Temple) exemplifies this common human weakness to leave God out of our everyday lives. In this rosary mystery, Mary and Joseph assumed Jesus was with them in the caravan leaving Jerusalem. When they finally discovered that he was missing, they started to panic and searched for Jesus for three days in sorrow.
How does this rosary mystery explain our daily routine? Mary and Joseph's assumption and lack of attention led to three days of worry, anxiety, and sorrow. I feel like many of us do this as well when we fail to start our day in prayer. When we don't actively keep Jesus visible in our lives, from the moment we wake up to the moment we close our eyes, we bring unneeded anxiety and sorrow because we take our attention away from the one who can help us find true happiness.  Jesus wants nothing more than to help us and carry some of our burdens.  But we have to come to Him and ask.  Rember Luke's Gospel:
Come unto me, all ye that labor and are heavy laden, and I will give you rest. Take my yoke upon you, and learn of me; for I am meek and lowly in heart: and ye shall find rest unto your souls. For my yoke is easy, and my burden is light (Luke 10:28-30).
Here's my challenge to you.  Get up 10 minutes earlier than normal.  Spend that 10 minutes in prayer.  You don't have to get out of bed but I do encourage you to sit up to avoid falling back asleep.  I bet your body can handle 10 minutes less sleep and your mind and soul will benefit from an extra 10 minutes of prayer.
Related articles