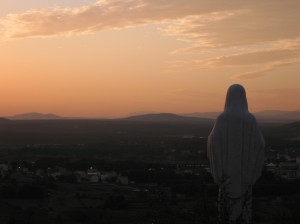 There is a small village in Bosnia-Hercegovina called Medjugorje.  In that village, the Virgin Mary has been giving messages to six individuals since 1981 through the form of apparitions.  To some, She appears every day while others only receive an apparition once per year.  There is vastly more to the story of Medjugorje than I can explain in this post.  If you like, you can read more at http://www.medjugorje.org.
In addition to my rosary meditations and other spiritual musings, I thought I would start posting Mother Mary's messages.  While many people are skeptical of the messages coming from Medjugorje, I encourage you to still read them.  Even if you do not think they are authentic, there is still a great deal of spiritual truth behind them.  The messages are great meditations and really make you think about your relationship with God.  So I ask that you read this with an open mind.
Dear children! Today I call you to look into your hearts sincerely and for a long time. What will you see in them? Where is my Son in them and where is the desire to follow me to Him? My children, may this time of renunciation be a time when you will ask yourself: 'What does my God desire of me personally? What am I to do?' Pray, fast and have a heart full of mercy. Do not forget your shepherds. Pray that they may not get lost, that they may remain in my Son so as to be good shepherds to their flock.

Our Lady looked at all those present and  added: Again I say to you, if you knew how much I love you, you would cry with happiness. Thank you.
I think this is a wonderful message during the season of Lent.  Mary asks all of us to introspect our hearts and souls and ask ourselves how much room we have made for God in our lives.  Are our hearts only filled with the desire for money, power, social status, and earthly comforts?  Or, are we filled with fear and doubt?  In these uncertain times, have we made any room in our hearts with the faith that Jesus Christ will be with us through any trials we encounter?
Like many of Her other message, Mary calls us to pray and fast.  These are the tools by which God enters and occupies our hearts.  While God is always wanting to be in our lives, we have to make room to let Him into it.  Praying and fasting is a way of doing a little house cleaning of our souls in order to prepare it for God's graces.  So let is follow Mary's advice.  We should fast and pray and see what spiritual junk lingers in our hearts that we can let go to make room for God.  Do we keep any grudges toward others that we can let go?  Do we spend every day with a constant anger towards other people or groups?  Do we complain about any unfair circumstances and harbor animosity towards those who seemingly have it easy?  Are our causes just and a reflection of God's natural law or are they merely shallow justifications to make our lives easier?  Let us take a long look at ourselves and ask, "Have I made room for God today?"
It's always a good time to visit and shop in the RosaryMeds Store.