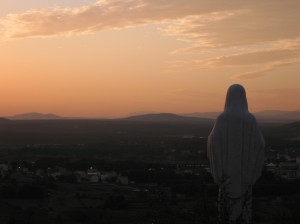 Here is a new message from Our Lady at Medjugorje on April 25, 2009:
Dear children! Today I call you all to pray for peace and to witness it in your families so that peace may become the highest treasure on this peaceless earth. I am your Queen of Peace and your mother. I desire to lead you on the way of peace, which comes only from God. Therefore, pray, pray, pray. Thank you for having responded to my call.
The message this time is clear — pray for peace.  Our Mother Mary asks us to make God's peace our highest priority and through prayer she can help us obtain that lofty goal.  However, I know a lot of people probably think that they are too small to bring about peace in this world.  After all, we are not leaders of nations or political groups.  We cannot attend international summits and converse with the world's presidents.  So what can we do to create peace?
I interpret the peace that Mary talks about as being a little different than the conventional notion of peace.  It is more than just the absence of war and hatred.  Mary's peace is where we try to obtain a heart centered around God's truth.  I feel that the greatest war is an internal and personal one waged inside our minds and souls.  Often we live for all the wrong reasons — money, power, sinful desire, and other pleasures of the flesh.  Living for these goals creates disunity within ourselves because we replace God's permanent and real love with shallow imitations.  We often hear stories about people who have all the money in the world and yet are not happy.  This is because they do not have the peace that only comes from following God's will.  As Mary says, real peace can only come from God.
I'm reminded of a story involving Saint Francis.  One day a fellow monk asked him what he could do to bring about peace in this world.  Saint Francis replied that he could start by closing the door quietly.  Saint Francis was cleverly teaching that peace begins with the individual and the conscious effort to live peacefully.  How can there be peace around the world if we are not at peace with ourselves?  The first order in building a lasting peace is to "clean house" spiritually.  Mary's last message was all about making room for the Lord.  Where do we start?  Mary's answer is simple — in prayer.  Peace starts with praying and being connected to God.  Without that connection we can never achieve the true peace of God.
Let us pray that we find God in our prayers in order to bring real peace to our hearts and souls.  May we have the courage to find peace, especially with those closest to us like our parents, family members, and friends.  As the song says, "Let there be peace on earth and let it begin with me."
It's always a good time to visit and shop in the RosaryMeds Store.