I have obtained from my Divine Son that all the advocates of the Rosary shall have for intercessors the entire Celestial Court during their life and at the hour of death.
Imagine that a little 9 year old child walked up and asked you to teach him some basic mathematics.  You excitedly run to the bookshelf and pick up your linear algebra book from college.  You figure that solving a few matrix equations should be a good introduction to math.  You start running through some sample problems when the child's eyes just glaze over because he has no idea what you're talking about.  You slow down and really step him through the process.  You even start taking out pieces of paper to explain the intersection of planes.  But no matter how slow you go and what you do, the 9 year old is just lost, confused, and frustrated.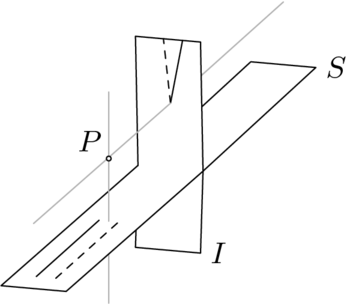 It's not really your fault or the child's fault that he could not pick up basic math concepts from linear algebra.  It was just a mismatch in the child's understanding of math and what is required to understand a complex topic like linear algebra.  The little child did not have adequate prerequisite knowledge to comprehend linear algebra.  He may be incredibly bright for his age but he still can't instantly conjure up 10 years worth of math concepts no matter how hard either of you try.
Trying to understand God is much like a little child trying to comprehend linear algebra.  No matter how hard we may try, God's nature is just something beyond our comprehension.  In fact, our gap in understanding God's nature is infinitely greater than the child's gap in understanding complex mathematical concepts.  Mathematics may be a large field, but at least it's something possibly within the realm of understanding given enough time and practice.  God's nature, on the other hand, is something that is infinite and beyond human comprehension regardless of how much time and effort you put into it.
Take someone who is quite well catechized like Pope Francis.  His understanding of God may be 100x greater than the average Catholic.  But if God's nature was represented as grains of sand on the entire planet, the pope's knowledge of God would still just be one or two grains of sand worth (and that's being generous).  There's a reason why God is the Alpha and Omega.  His nature is infinite and beyond what are finite minds can possibly comprehend.
But that is where the celestial court comes in to help us better understand God.  A more common term to describe the celestial court is the communion of saints.  You profess your belief in it every Sunday when you pray the Nicene creed when you say "I believe in the communion of saints."  The communion of saints are so important in the Catholic Church partly because they help us better understand what God wants of us.  Each saint was a living manifestation of an aspect of God's nature.  When we look at the saints and what they did in their lives, we get a mosaic of who God is.  Granted, it's still a very rough picture of God, but it's better than nothing.  We may be like children when it comes to understanding God, but the saints' examples give us the basic lessons for understanding how God wants us to live.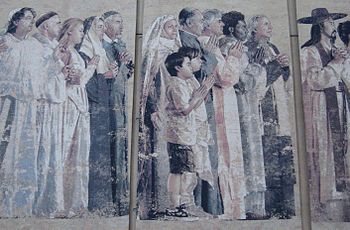 For example, St. Francis demonstrated humility and charity by giving up a life of comfort and wealth for a life of poverty and service to the poor.  St. Faustina shows us the virtues of mercy and compassion.  St. Maria Goretti showed us forgiveness.  St. Madeleine Sophie Barat showed us unconditional love.  Soon-to-be-saint John Paul II shows us that we all have the inner strength to follow God despite our worldly situation.  All of these are virtues God wants all of us to exhibit.  But again, we have no way of fully comprehending God's Will directly from Him.  But we can understand aspects of God's Will by looking at the saints.
Like Mary's other promises, she promises us intercession.  Mary offers us her personal intercession in previous promises and now she includes help from the communion of saints.  We need all the prayers we can get and we should rejoice that we belong to a faith that promises so much help from people living in God's grace.  I know I take comfort that I don't face life's challenges alone but have the help of the saints in Heaven.  I also have them as role models for how I can achieve eternal salvation no matter where I am in life.  I remember this saying I once heard on the radio — every saint has a past and every sinner has a future.  In other words, not all the saints lived very saintly at some point in their lives but they were able to "wise up" and commit themselves to living God's Will.  Hopefully we can follow in their footsteps and do the same.
Related articles