I know I'm a little late to the party, but I want to comment on Pope Francis' latest interview in American Magazine that raised a stir. It has more progressively minded Catholics giving the pope a big thumbs up while traditional Catholics are squirming in their seats. Some people think that Pope Francis is undoing decades of zealotry and adherence to dogma while others see him simply rephrasing long-held teachings of the faith. In a way, the pope's comments are a spiritual Rorschach test. Otherwise known as an inkblot test, a subject sees pictures of generic shapes and says the first thing that comes to mind. It helps psychologists determine someone's state of mind. Like the Rorschach test, Pope Francis' comments almost reveal more about our perceptions of the Church than what the Church actually teaches.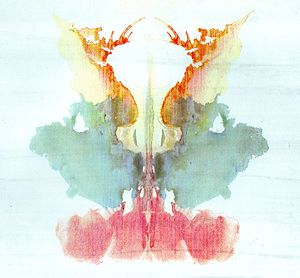 Pope Francis' interview is about 12,000 words long (please read it). The mainstream media and blog outlets mostly fixated on a few statements about how the Church "cannot insist only on issues related to abortion, gay marriage and the use of contraceptive methods." And that "the church's pastoral ministry cannot be obsessed with the transmission of a disjointed multitude of doctrines to be imposed insistently." Just look at the headlines:
Huffington Post — Pope Francis: Gays, Abortion Too Much Of Catholic Church's Obsession
New York Times — Pope Says Church Is 'Obsessed' With Gays, Abortion and Birth Control
The Daily Beast — The Pope Confesses Church's 'Obsession' With Gays, Abortion (I was amused by the use of the word "confesses")
Taken on its own, it sounds like Pope Francis is casting off all those stuffy, cold-hearted rules that previous popes enforced to the letter. But when viewed in the context of the whole interview, you see that he's saying that our faith and evangelization isn't primarily about beating people over the head with rules and guidelines. The pope does not want people to blindly obey because people will never embrace the true Catholic Church that way. Instead, he wants people to know that God loves them and the Church dogma and doctrines exist to bring people closer to God's grace. Essentially, the pope hopes that people will want to follow the Church's guidelines out of love, not offer blind allegiance. CatholicVote.com has a good article that summarizes the pope's interview if you want more analysis.
To their credit, many of the mainstream media articles do say that Pope Francis didn't change Church teaching. This is the same message previous popes, cardinals, bishops, and priests have taught (or should have taught) for years. But when I read the comments in these online articles, I do get the sense that people are projecting their desires on what they would like the Church to be and not actually hearing what the pope says the Church actually is. They only see the aspects of the pope or the Catholic Church that fit their worldview and filter out anything that does not fit. For example, did you know that Pope Francis recently excommunicated a priest for promoting gay marriage and women's ordination? You probably did not because that doesn't fit the narrative of the compassionate pope the media portrays and is more in line with Pope Benedict's image as "God's pit bull."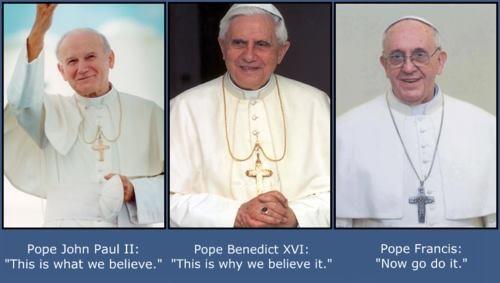 A writer for one of my favorite Catholic blogs, Creative Minority Report, demonstrated how easy it is to sway people's perceptions of the pope depending on how his words are reported and filtered. I urge you to read this article that has quotes by the pope on the importance of women in the Church, how the Church should focus on helping the poor, how She embraces other faiths, and how humble he is. That describes Pope Francis to a tee right? But the M. Night Shyamalan twist at the end is that those quotes all come from Pope Benedict. Yeah, that supposedly detached, rule-oriented pope according to many media outlets. So this is a word of warning that you should perceive the pope or the Catholic faith with caution. Are your views based on your own conscience or on the narrative someone is trying to push?
I think we all need a healthy dose of the Fifth Glorious Mystery — Mary's Coronation as Queen of Heaven. In the interview, Pope Francis said, "Mary, a woman, is more important than the bishops. I say this because we must not confuse the function with the dignity." We should pray for help and guidance from Mary, Queen of Heaven. Remember, media outlets and blogs are in the business of selling products and advertisements and making profits. Mary is in the business of saving souls and making sure that as many people as possible will one day live in the peace of happiness of Heaven. When it comes to matters of faith, perhaps we should put down the New York Times, turn off Fox News, and pick up a rosary if we want to know the true Catholic Church.
Related articles