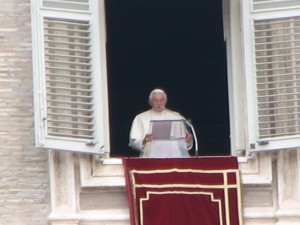 Buona sera!  That is Italian for "Good Evening."  I got used to saying that phrase quite often during my two-week trip to Italy.  I'm back now and I thought I would share the highlight of the vacation.  My wife and I attended Mass on Pentecost Sunday, at St. Peter's Basilica, lead by Pope Benedict XVI on our first-year wedding anniversary.  I wish I could say that I planned this all especially for our anniversary, but it was mostly a lucky coincidence of being in the right place at the right time.  However, I can't think of a better way of spending our anniversary than attending a Papal Mass at the literal center of the Catholic Church.
This experience was very energizing and felt like a small pep rally for my soul.  It definitely fell more on the electrifying side rather than a deeply spiritual one.  It is difficult to have a deeply solemn and meditative experience when you are in St. Peter's Basilica with thousands of other people, many of whom are there to watch a good show, listen to a symphony, and take pictures rather than pray.  That being said, the grandeur of the ceremony appealed to another side of my spirituality — my excitement and joy of being a member of the Catholic Church.  Throughout the Mass all I could think about was how great it is that this is my Church, my traditions, and my faith and I couldn't be prouder to be a Catholic.
The excitement of the entire ceremony can be summarized in seeing The Holy Father walk down the isle only ten feet away from us.   As he walked by, staff in hand, I could really feel the presence of the Holy Spirit that surrounds him.  I felt a sense of excitement and pride coming so close to someone whose very smile radiates a joy that can only come by fully embracing the Faith.  Despite all the burdens and responsibility of his position, Pope Benedict XVI really looks like he is at ease with the monumental task God has given him.  This reminded me of Mary at the Annunciation where She accepted God's Will despite the worldly burdens it would bring.
It's safe to say that God calls most of us to much lighter service than what He asked of Mary and what He asks of the Pope.  So if they have the strength to say yes to God, and do it with a smile, then I'm confident that any one of us can accept God's calling and do our small part with joy.