2015 has started out rough for me.  I have a car that is failing its smog check (okay, that's trivial but still annoying).  Our old water heater broke and flooded the walls, insulation, and floors of the surrounding rooms.  I am going through my annual January cold (seriously, I think the cold virus is pro-choice because it hits me every year around the Walk for Life).  And my parent company announced that they are shutting down my office as part of a downsizing effort.  That's just my immediate family's issues on top of the usual difficulties of raising children.  I then have to pile on the challenges various members of my extended family face as well.  And yet, while I would have every reason to freak out, I'm strangely at calm with my situation right now.  Why?
I think a lot of my calm and acceptance of my situation comes from me praying the rosary regularly.  I'm not saying this to brag or to somehow come across as being holier than others.  I'm saying this as a testament to the power of prayer.  You really have to think of routine prayer as building a spiritual "rainy day" fund.  Financial experts are always saying that you should save money in an emergency fund for unexpected expenses.  So prayer is the emergency fund for your soul.
I know many of us turn to prayer mostly when times get tough.  But that is like only starting to save money after the car broke down or the floors are already flooded.  Not having reserves makes a difficult situation even harder.  So if you don't have those spiritual reserves to dip in to, turning to prayer for the first time in an emergency almost adds to the burden instead of relieves it.
First there's the logistical hurdles.  Prayer is frustrating when you haven't practiced it because it will be hard to get into that state of mind where you are calm and relaxed enough to have a truly open heart to the Holy Spirit.  You'll be fumbling over words and thoughts instead of getting into the zone and being receptive to how God is leading you.  Second, spirituality accumulates like water in a well — the more you pray the deeper that well becomes.  Sometimes you really just need that large gulp of grace to get you through a difficult situation.  But if you haven't prayed regularly, you are dipping into a shallow spiritual well that won't give you the grace you need.
It's never too late to start building your spiritual emergency fund.  All it takes is five free minutes and a rosary (or your fingers if you don't have a rosary).  It starts with a single Our Father or Hail Mary or just a free form meditation.  In finance, there is the idea of compounding interest and exponential returns.  You can start with a very small amount of money and over time it can grow to a large amount through compounding.  The same goes with prayer.  Building your spiritual emergency fund can start with a small amount of prayer but if you regularly invest some time here and there, those small prayer moments start to add up to one large pool of grace.
This leads me to the Fifth Glorious Mystery of the rosary, Mary's Coronation as Queen of Heaven.  She's the one that compounds our prayers into something more substantial.  There is a reason why Mary is known as the Mediatrix of Grace.  She's takes our prayers and intentions and places them before her son, Jesus Christ, after she's cleaned them up and clarified them.  Remember, Mary has a particularly interesting role as being both human like us and going through the human experience but also being singled out as a purified vessel for the Son of God.  So it makes sense that she has the unique role in Heaven of hearing our intentions and, in a way, translating them and amplifying them to God.  Like a good mother, she understands all our little faults of being human.  It doesn't matter how ineloquent or small your request is, Mary Queen of Heaven will act as your intermediary, your advocate, and your broker in Heaven.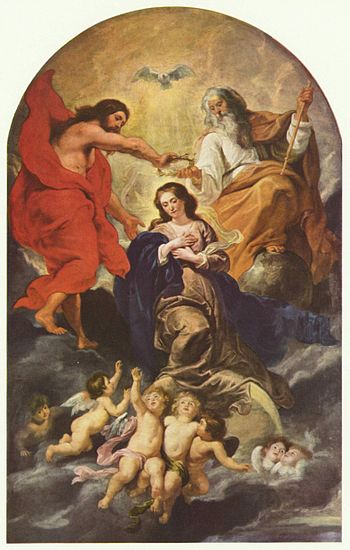 Again, no matter how small your spiritual emergency fund may be, start building it up with a prayer here and a prayer there.  When you pray the rosary, don't think of it as a daunting task of 53 Hail Marys, 6 Our Fathers, and a several other prayers.  Just focus on one prayer at a time for however much time you have.  Mary and the Holy Spirit will take it from there.  And over time, you will have that deep well of faith to dip into when times get tough or to give to others who need it in their time of need.