Do you remember one of the early scenes in Million Dollar Baby where Client Eastwood's character kneels in prayer next to his bed? He says something to the extent, "Lord, you know what I want, there's no use in me repeating myself." Boy, how often can I relate to that sentiment! I sometimes think to myself that God knows everything and definitely knows my intentions and my needs better than myself so why go through the exercise of formulating them in prayer? The Gospel reading from 10/6/16 addresses this dilemma.
Last Thursday's Gospel reading included this popular verse from Luke:
"And I tell you, ask and you will receive; seek and you will find; knock and the door will be opened to you. For everyone who asks, receives; and the one who seeks, finds; and to the one who knocks, the door will be opened."
The Regnum Christi website's meditation on this Gospel reading talks about how we fall into the sin of pride when we don't explicitly ask God for help through prayer.  From their website:
When I Don't Ask for What I Need, I Treat God as My Servant: When we expect God to give us all we need without asking, are we not placing the whole burden of our salvation on him and nothing on ourselves? Are we not in a sense being lazy? "You know what I need, Lord. Just give it to me, take care of it, while I focus on my own interests." Not only is this laziness, it is pride, treating God like a servant whose role is to provide whatever I need. We forget he is God. Certainly God is generous and loving, willing to give us everything that is good for us; but he is still God, and he deserves our respect, adoration, and especially our gratitude.
The rosary connection to this Gospel reading is the Fifth Glorious Mystery — Mary's Coronation as Queen of Heaven.  Traditionally, the mother of a king held tremendous prestige because while a king may have multiple wives, he only has one mother.  The king's mother was referred to as the gebira.  It makes sense then that Christ, being King of Heaven, would coronate his mother Mary as Queen of Heaven.
The chief responsibility of the gebira was to act as a mediator and speak on behalf of the king.  When we pray the rosary, we acknowledge Mary as our mediator of our needs and intentions to her son, Jesus Christ.  But she can better mediate on our behalf when we consciously and humbly come to her and ask for her help in prayer.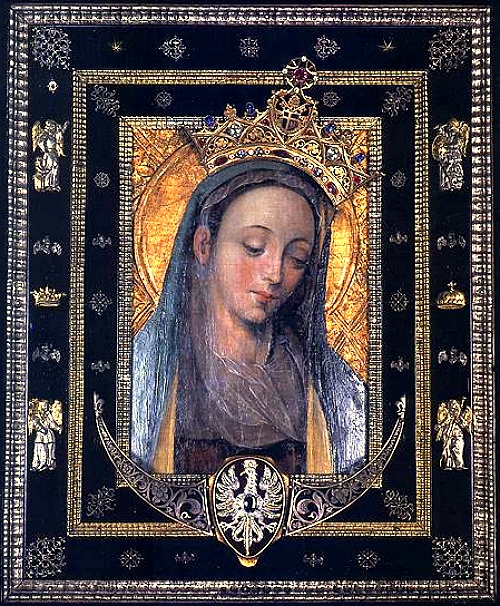 Think of Mary like a doctor and you are the patient.  Mary is here to help you and she will do whatever she can to cure the illness of sin and bring you into God's grace.  However, she will be better able to help you if you are forthright and honest with her by humbly stating your needs in prayer.  The better the patient you are, the more effective Mary can be in her role as your Queen of Heaven.  When you can formulate your intentions in prayer then you will be able to understand how God responds to your request.
If you know what ails you spiritually, speak up!  Because if can't form the request in your head, how will you recognize the heavenly response?
Related articles