I always leave the house armed. In this world I think you are naive, if not a little crazy, if you don't carry some sort of personal protection. Of course, given that I live in the Bay Area, I don't carry my sidearm openly. It's usually concealed but I'm ready and willing to use it if the situation calls for it. Don't worry, I have plenty of practice using it. I've gone with a standard, white model. It isn't very fancy, but it packs a punch with a 60 round capacity.
Wait, what? Take a look… yes, you're still on RosaryMeds and not the NRA website.  And no, I'm not delirious from a lack of sleep.  But I am talking about weaponry in this post; very powerful weapons that pack more punch than what any Colt or Gloc could possibly deliver. If you haven't guessed, my weapon of choice is the rosary. Of course, the 60 rounds should have been the give away (5*10 Hail Marys + 5 Our Fathers + 3 Hail Marys + 1 Our Father + 1 Crucifix = 60). For the last 8 years, since I started praying the rosary seriously and routinely, my rosary has been in my pocket wherever I go.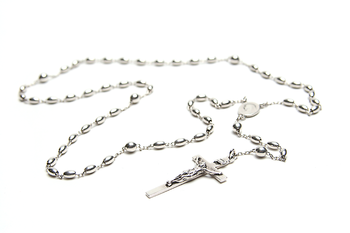 I mention this in the wake of the gruesome execution of James Foley at the hands of Islamic radicals.  One of the lesser known facts about James Foley was his devotion to rosary prayer and how it helped in through his captivity in Libya in 2011.  In a letter to Marquette University (his alma mater) after his Libyan release, Foley wrote:
I began to pray the rosary. It was what my mother and grandmother would have prayed. I said 10 Hail Marys between each Our Father. It took a long time, almost an hour to count 100 Hail Marys off on my knuckles. And it helped to keep my mind focused.  Clare and I prayed together out loud. It felt energizing to speak our weaknesses and hopes together, as if in a conversation with God, rather than silently and alone.
And this is why I think carrying a rosary is so important.  You never know what life is going to throw at you when you will need to respond with the power of prayer.  Granted, most of us won't be captured by radicals, imprisoned, or martyred.  But we don't have to go to those extremes to understand the importance of carrying a rosary.  How many times have you received bad news about a friend, family, your job, your city, your neighbors, your country, your parish, or anything that is important to you?  How many times have you faced a difficult challenge in your life?  Or what about the times when something great has happened?  Those are all perfect opportunities to reflect and meditate on some rosary mysteries.  I think we come across opportunities on a daily basis for praying the rosary but maybe we miss them because we aren't physically carrying one that we can whip out when we need to.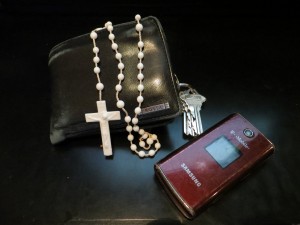 I'm not saying that you can't pray the rosary unless you are physically carrying beads.  James Foley prayed the rosary counting on his knuckles.  When I can't physically hold a rosary (usually because I'm rocking an infant to sleep) I will often look for something in the room that is in a group of five or ten so I  can keep track of where I am within a decade.  Maybe there is a flower pattern on the rug with five petals that I can stare at.  Maybe the door or window has 10 sections that I can focus on.  But I do find that actually carrying a rosary is a great reminder of the importance of integrating prayer into my daily routine.  I take my phone, keys, and wallet with me because they will be useful tools throughout my day.  The same can be said about my rosary.
Try this.  Add a rosary to your other daily essentials that your carry in your pocket or purse.  Or attach a rosary ring to your keychain.  More importantly, instead of reaching for your smartphone when you have five minutes to burn, reach for that rosary and pray.
Related articles