I recently completed reading Saint Dominic and the Rosary by Catherine Beebe. Saint Dominic's life was a saintly one in every sense of the word. He practiced the saintly virtues of humility and patience throughout his life. We should also practice these virtues during Advent as we prepare to celebrate Jesus' birth and reflect on the life of the greatest saint, our Mother Mary, who is the paradigm of patience and humility.
Catherine Beebe's book walks through Saint Dominic's life from his early childhood through his holy death. Keep in mind that this isn't an academic or rigorously historical book. It contains conversations and events that I'm sure came from second and third hand sources or were created in an attempt to better explain aspects of Saint Dominic's personality. But that in no way takes away from the motivational and inspiring power of this book. Personally, I want to learn about Saint Dominic's virtues, not a dry day-by-day historical account of his life.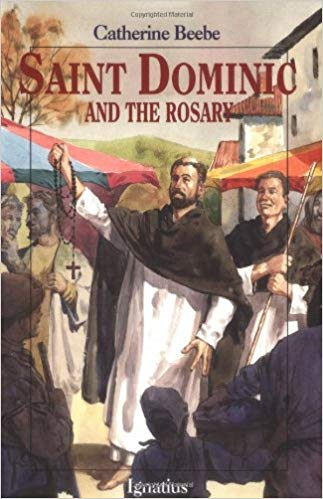 According to the book, Saint Dominic strived for sainthood his entire life. He always oriented himself towards bringing people closer to God. When he was a young priest traveling through Spain, he was never too tired or busy to preach to the Albigensian heretics and try to convert them. He lived humbly, never indulging in earthly delights. In fact, he never ate more food than what he needed to stay healthy. Even the order he founded put their faith in God to provide for them as they relied entirely on people's donations of food, clothing, and other provisions.
It is this total giving of self that is the main theme throughout
Catherine Beebe's book. And I think this is also why our Mother Mary choose Saint Dominic to bring Her Rosary into the world. She too, was a total servant of God; putting aside Her wants and expectations to completely accept God's plan for Her. That is what God wants out of a saint — a complete and willing submission to His Will. When I say "submission" I'm not talking about it in that dominating sense of the word. I mean that we willingly put our lives into God's hands with faith that He will lead us to true happiness.
You have to be humble to be a servant to God. Humility is the virtue which defeats pride. And pride is the sin of centering your entire life around your wants and desires. You can't put yourself into God's hands while centering your life around what you want at the same time. You have to choose. Likewise, saintly behavior requires patience. It's a lifelong journey of trusting in God when times are either good or bad. You can't say you're devoted to God and then bail on Him at the first sign of hardship. Is it easy? Of course not. But where do you think the phrases patience is a virtue and patience of a saint come from? Being a saint isn't easy but it's the life God calls all of us to live.

The Rosary Connection

Look at Mary in the First Joyful Mystery. She showed great humility placing Her life in God's hands in the Annunciation. Now move on to the Fifth Joyful Mystery. Mary and Joseph searched for Jesus for several days "in sorrow." Imagine the patience Mary had to show and not give up hope of finding her lost son. We can learn from Mary that even when times are difficult, we need to show patience for God to show us the way. It is in that quiet patience that God will show us the way out of hardship.

PSA: archive.org

Lastly, I want to point our a really useful Rosary resource — www.archive.org. I found that book about Saint Dominic on archive.org and, like a library, I was able to check it out as an ebook. If you do a search for "rosary" on the site, you will find all sorts of books, newsletters, pamphlets, etc. Many of those are out of print and you cannot find anywhere else (which is the whole point of why we have archive.org). If you're looking for some new Rosary material, give archive.org a look (and support it with a donation if you find anything of value).