I have a two and a half year old toddler.  Anyone who has raised kids that age knows that you have to watch them like a hawk.  He will find a new and creative way to either hurt himself or destroy something the instant you turn your attention elsewhere.  I've seen water cups poured on tables because he wanted to create a swimming pool for his toys.  Crayons, pens, and markers rarely stay on paper.  Sharp objects on kitchen tables that used to be out of reach are suddenly reachable.  Kids just have the sixth sense of knowing when they aren't being watched.
Why do I bring this up?  Is it to vent about the challenges of raising kids?  Okay, maybe that's partially it.  But this isn't a blog about parenting.  It's a blog about faith and rosary prayer.  And I see a lot of parallels between practicing the faith and raising a toddler.  Chiefly, if you turn your attention away from your faith, even for a second, trouble will fill the gap.  Like a parent who has to constantly watch a toddler, you have to be constantly aware of your faith and how God's calls you to live so that you will avoid falling into sinful behavior.  What that means is that you have to routinely pray the rosary so that it will serve as a small check up on the health of your soul.
The more you pray the rosary the more in touch with your faith you will be.  Going back to the child analogy.  Will a child that is checked on every few minutes get into less trouble than the one checked on every few hours? Probably.  Similarly, the soul that is "checked on" more often will less likely fall into sinful behavior.  In one of my original posts on the First Luminous Mystery I said how rosary prayer is a lot like brushing your teeth and going to the dentist.  You need to brush your teeth regularly and see a dentist so that your teeth remain in the best health and problems can be corrected when they are still small.  Similarly, you need good spiritual hygiene of routine prayer — daily prayer if not more often.  That allows you to recognize and correct faults and weaknesses while they are small before they escalate into major problems.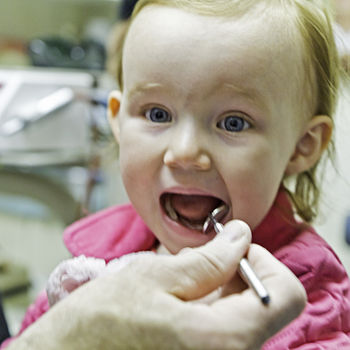 Another aspect to keeping a toddler out of trouble is actively engaging them.  While sometimes I wish my son would entertain himself with his toys and all I need to do is occasionally correct him if he starts doing something wrong, that is not how raising a child works.  Keeping my son out of trouble usually means interacting with him through playing, reading, singing, etc.  Sitting down with my son with a bucket of Lego bricks has proved infinitely better at keeping him out of trouble than millions of passively said "no's", "don't touch that", "and take that out of your mouth."
The rosary is also something that works best when you're actively engaged praying it.  When you break out of thinking of rosary prayer as a mechanical uttering of words you also forge a more meaningful relationship with God.  Rosary prayer isn't a passive activity, at least it's not if you want to get something out of it.  Like the toddler that needs your engagement more than he needs to hear your rules, the rosary requires active participation to be truly effective.  It is your opportunity to really interact with God and lay out your petitions, sorrows, and thanksgivings.  It's not about fulfilling some todo item to make God happy but is your chance to actually learn God's plan for you.
I understand that making time for rosary prayer is difficult.  It's probably even more difficult than interacting with a toddler.  Last time I checked, a rosary doesn't take a box of crackers out of the cupboard and empties it out on the kitchen floor when you don't pray it.  A rosary can be easily forgotten.  After all, bills need to be paid.  You need to go to work.  You need to sleep.  You need to clean.  You need to keep your children from painting on the walls.  I get it.
I learned in college that you always make time for the activities that are priorities.  There are just some activities you cannot ignore because your health, finances, or relationships depend on you making time for them.  My challenge to you is to elevate your spiritual well being as a priority in your life and make praying the rosary a routine.  It's Advent now which means it's a new church year.  Make rosary prayer your resolution.
Related articles