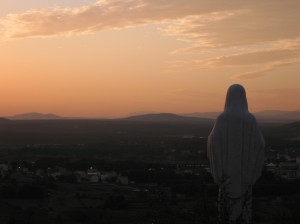 Our Lady's message on July 25, 2009 is short and simple:
Dear children! May this time be a time of prayer for you. Thank you for having responded to my call.
That's it.  Of course, the simplest message is often the hardest to carry out.  After all, how much time do you spend in prayer every day?  Do you think you could stand before God and honestly tell Him that you spent enough of your life in prayer?  Or better yet, do you make your entire life a living prayer where you put God first above all other things?  I know that I have a tendency to isolate my faith where I set aside some time for God but then go about my day focused (or obsessed over) other things.
So ask yourself, do you make your entire life about loving God and having His love shine forth through you in all that you do?  Or is there a disconnect between your prayers and how you live your life?  Let us remember that prayer is more than just reciting an "Our Father" or "Hail Mary."  It is a time for us to talk to God and learn how we can incorporate His will into our lives.  May our prayers bare fruit by living as God calls us to live.