I have to share a sad story about a friend of mine who the parish pastor removed from teaching a Sacrament of Confirmation class for "being too passionate about her faith" around "impressionable" students. This is an unfortunate event but hopefully some good can come out of it if it awakens the conscience and awareness of others about the threats to the Catholic Church. Here is a letter my friend wrote explaining what happened (I removed the names at my friend's request):
Last night I was "let go" from teaching Confirmation to High School students at [name of school] because I am accused of "being too passionate about my faith" and the students are "too impressionable".

I am a very good faithful Catholic Catechist that teaches only the Truth from Scripture and the CCC.

I believe in helping the students to develop "well formed consciences", so I speak about the "intrinsic evils" in our current dark culture. Abortion, euthanasia, cloning, destruction of stem cells for embryonic research, the eroding and re-definition of traditional marriage and the assault on our religious freedom. But most of all the disappearance of "God" in our world. The DRE says that I'm only to teach Confirmation (LOL).

Last Wednesday the day after the election I spoke to the students about voting as Catholics when first and shared the above with them. A question came from a student asking "does this mean if you voted for Obama that you are not Catholic?" I said that voting for a platform that supports intrinsic evil like that means you are not a "faithful Catholic".

I had a meeting with the pastor this morning, he is supports the DREs viewpoint. He voted for Obama and doesn't believe that in doing so you are not a "faithful Catholic". I told him he was wrong and that the majority of U.S. Bishops and our Pope thinks so too. He said he didn't care what the Bishops say–which means this Priest is outside the magisterium of the Church–which is not new news to any of us. The majority of current leadership of our Church have succumb too.

It's terrible enough that those who are not Catholic would attack us–but to be attacked from within is very depressing. I believe that God is allowing all of this to happen to me and to the world for a greater good and I trust in Him. I will fight this and all those like this within the Church and in the public square.
First, we should look at what the Catechism of the Catholic Church (CCC) teaches about the Sacrament of Confirmation. The introduction in the CCC says (italics mine):
For by the sacrament of Confirmation, [the baptized] are more perfectly bound to the Church and are enriched with a special strength of the Holy Spirit. Hence they are, as true witnesses of Christ, more strictly obliged to spread and defend the faith by word and deed.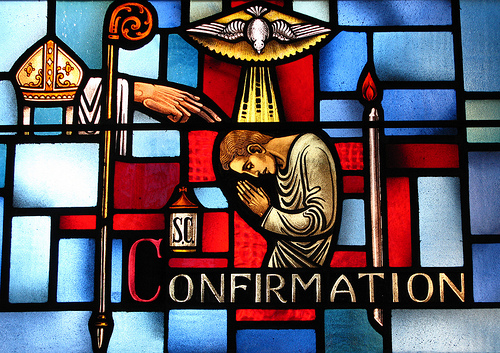 The Sacrament of Confirmation is a calling to spread and defend the faith. Defend it from what? What are the threats to the Catholic faith? I think my friend nailed it in her letter when she identified these threats as "the 'intrinsic evils' in our current dark culture. Abortion, euthanasia, cloning, destruction of stem cells for embryonic research, the eroding and re-definition of traditional marriage and the assault on our religious freedom. But most of all the disappearance of God in our world." In order to defend against evil, you must be able to identify it. All my friend did was introduce these evils through the lens of the Church. We cannot act so naïve as to think that these young adults will never encounter these challenges to the faith. So shouldn't we prepare them using the best tools available to us like the CCC?
The paster's actions also seem to fly in the face of this year's theme for the Catholic Church, the year of faith, and the call for the New Evangelization. This is a call from the highest levels of the Catholic Church for the faithful to become better catechized and make an effort to grow deeper in their faith. And yet, at the local level, when someone tries to do just, she gets kicked out of her role.  The world will catechize these impressionable teenagers one way or another. Would you prefer the future generation of the Catholic Church to be catechized by popular culture, the media, and our politicians or by those who truly love their faith and want to see the Church thrive in the grace and love that Jesus intended?
By avoiding teaching these difficult issues, local parishes present a watered down version of Catholicism. Teenagers are impressionable, but they can also be very astute. They detect when someone isn't giving them straight answers or presents Church teachings using clichés and platitudes. Church teachings no longer become the product of centuries of thought by some of the most brilliant theologians the world has ever known, but instead are reduced to the equivalent of flowery song lyrics. And like a song in a large playlist, teenagers will just file away their perception of Church doctrine as just one idea of many and head towards what they feel is more exciting, interesting, and important. When local parishes keep this status quo, I'm not surprised that regular Mass attendance is down to 23% among US Catholics. Teenagers crave substance and yet many parishes are afraid to give it to them.
What Does the Rosary Teach Us?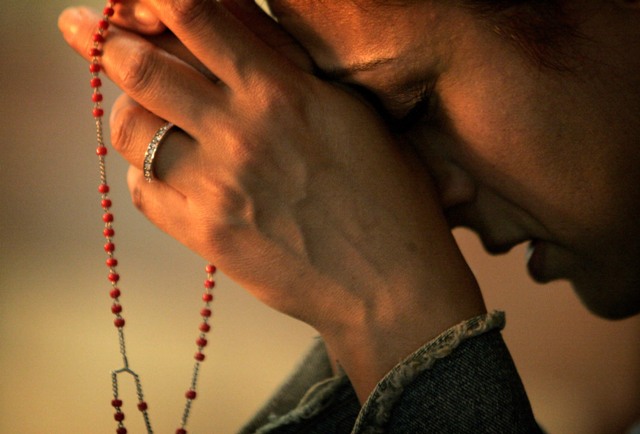 My friend's situation reminds me of the Third Luminous Mystery of the rosary — Jesus' Proclamation of the Kingdom of the Heaven and the Call to Conversion. Remember the response Jesus received when He announced that He was the fulfilment of scripture. Did the people rejoice and listen intently to Jesus' teachings? Nope. They chased Him out-of-town and later crucified Him. Similarly, St. Paul caused riots and was almost assassinated trying to spreads Jesus' teachings in the Acts of the Apostles (you should definitely listen to it). And so we find ourselves in a similar situation today. There are many people out there who truly love Jesus and His Church and want to proclaim authentic Catholic teachings. But they are chased out, like Jesus, because those teachings upset the status quo and force people to evaluate their priorities and values in life. Conversion is difficult and takes effort especially when it forces us to leave the comfort of the status quo or admit that we are on a wrong path. But in the Third Luminous Mystery, Jesus asks us all to a life of continuous conversion and to always try to move ever closer to Him.
When we pray this mystery we should keep in our intentions those people who cling to their beliefs even when they run counter to the Church's teachings. May the Holy Spirit open their hearts to the true conversion to which Jesus calls them. And we should pray for all of those who want to teach the Catholic faith but are persecuted and chased out. Like St. Simeon in the Fourth Joyful Mystery, may they stay steadfast in their convictions even when it seems pointless.
Related articles