It's October. For many of us, that means complaining about pumpkin flavored food and drinks being offered everywhere, acting surprised how early the
Christmas season
starts every year, gloomy weather, and Halloween.  What I often forget is that October is the month of the holy rosary.  That's extremely embarrassing since I run a rosary website!  May and October should be my
rosary
playoff
season where I give 100% effort praying the rosary as well as writing about it.
I think it is important to understand why October is a month dedicated to the rosary because it highlights the power and importance of the rosary.  You need to go back to October 7, 1571, to the Battle of Lepanto.  This was a huge naval battle between the Christian European nations under the banner of the Holy League and Ottoman Turks that were advancing through the Middle East and across the Mediterranean Sea into Europe.
The Christian fleet was vastly outnumbered.  Pope Pius V called on the faithful to pray the rosary publicly asking for the intercession of the Blessed Mother to halt the Turkish armies.  Despite all odds, the European fleet defeated the Turkish one and the victory was attributed to Mary's intercession through rosary prayer.  Pope Pius established an annual commemoration to honor Our Lady of Victory, and his successor, Gregory XIII, decreed that the first Sunday in October would be the feast of the Holy Rosary.  The Church then extended the celebration of the rosary throughout the entire month of October.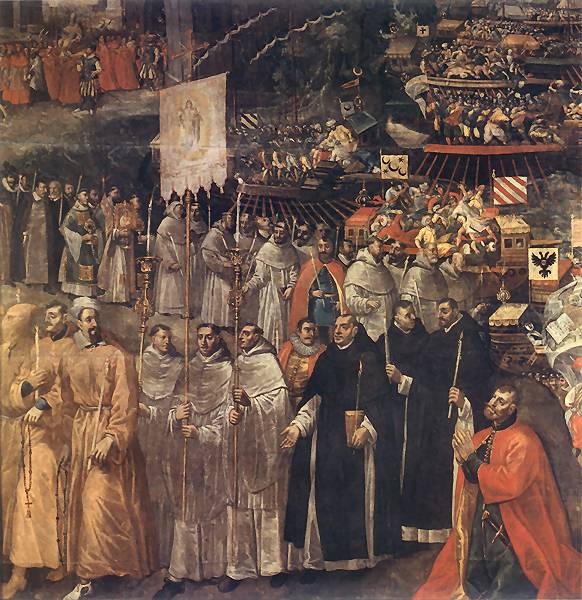 Rosary prayer and asking for Mary's intercession helped the European navy to overcome overwhelming odds at the Battle of Lepanto.  But the answer to those prayers didn't come in the form of legions of angels visibility descending from Heaven or God sending a huge title wave swallowing the Turkish fleet.  The rosary did the seemingly impossible by transforming the hearts of minds of those involved in the battle.
Remember, the Turkish ships were mostly powered on the backs of captured Christian slaves.  Many accounts speak of these slaves sacrificing their own lives by intentionally moving and orienting the Turkish vessels in ways that gave the European fleet clear shots and other advantages.  I believe it was rosary prayer and dedication to Mary that gave these slaves and soldiers the courage to sacrifice their lives for the greater good.
God's answers to our prayers are not always what we expect.  In fact, the answer may not be something that is even easy or pleasant.  The victory at Lepanto was achieved through the sacrifice of thousands of soldiers and slaves.  Our redemption was achieved through the sacrifice of God's only son Jesus Christ.  If you find yourself doubting the effectiveness of prayer, commit yourself to praying the rosary this month asking God for both faith and peace in his divine plan for you.  If rosary prayer changed the course of history at the Battle of Lepanto, surely it can achieve the even more difficult goal of increasing our faith and turning our hearts towards God.
Related articles