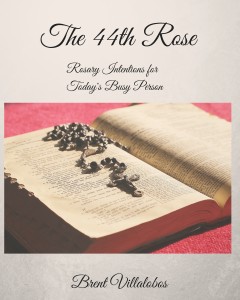 Nothing makes me happier than to know people are reading RosaryMeds.com and feel inspired to either start praying the rosary or continue with a renewed zeal.  In my mission to spread the joy of rosary prayer, I'm providing meditations for each mystery that I hope will make your rosary prayers more focused.  I'm providing these meditation in multiple formats so that you will always have them readily available.  The intentions/meditation ideas are the same across all formats so choose the ones that suit you best.
Trust me, you won't find rosary meditations like this anywhere on the internet.  While most websites provide a short summary of each mystery, I'm providing focused intentions for each Hail Mary you pray in each decade.  That's 200 intention and meditation ideas that I hope will infuse your rosary prayers with fresh thoughts and ideas.  If you find these intentions helpful, please share them.  I'm providing them free in hopes of making more rosary prayer warriors.
Book formats — Includes introduction and rosary basics
Slide Show — Like an interactive rosary.  Each intention is on a separate slide so you can click your way through each "bead" as you pray.  Requires an app that can play presentations like PowerPoint, OpenOffice, or Google Slides.
Online — You're already on this site, might as well stop and say a few decades.  Select the desired link under "sub pages" below.
While I'm providing these rosary prayer ideas free of charge, if you would like to support RosaryMeds there are a few ways to contribute.  The money goes towards hosting fees and other costs of running the site.